Sharp Tools Prepared for Punching Duty
November 1, 2014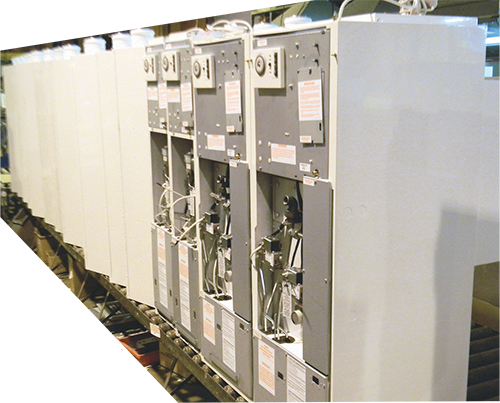 Johnson & Starley Ltd. manufactures energy-efficient heating and ventilation equipment. Sheetmetal panels, the majority 0.9- and 1.2-mm mild steel, are punched using semi-shearing, hole-punching and embossing tools.

At Johnson & Starley Ltd. (J&S), Northampton, UK, a manufacturer of energy-efficient warm-air heating and ventilation solutions, new CNC punch-press tool-sharpening equipment (a Premia model from Mate Precision Tooling) has brought about major improvements in tooling maintenance, while increasing the readiness of tooling for ongoing punching projects.

Not much of a headline grabber in fabricating circles over the years, tool sharpening was an activity fabricators performed merely to "keep on punching." All of that is changing, at J&S and other fabricators, as they focus more attention on sharpening as a way to make the punching process faster and more precise and repeatable.

This new era in tool sharpening also meshes well with continuous-improvement programs, and J&S exemplifies that ideal by experiencing measurable results that translate into bottom-line improvements. With its new tool-sharpening machine in place, J&S has realized many benefits, including reduced maintenance time, extended tool life and making the sharpening chore far simpler for workers to perform.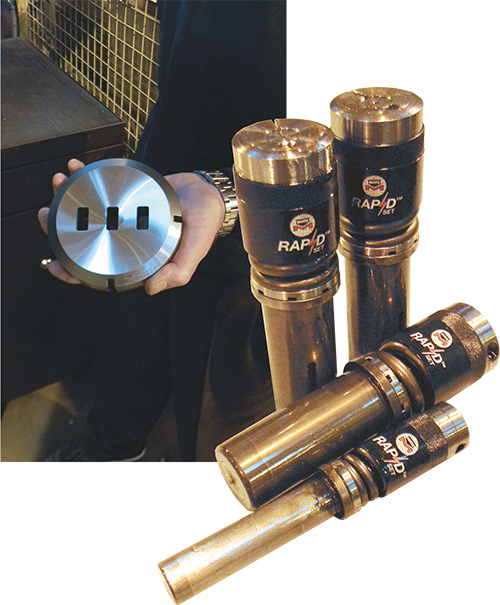 J&S employs its new tool-sharpening system to return dies and punches to near-new condition. Shown are the Mate cluster die and Rapidset (adjustable punch length) tools used in the firm's sheetmetal-fabrication shop.


"Our continuous-improvement program had us looking at all areas of our fabricating operations, and tool sharpening came under scrutiny," says Chris Yates, J&S managing director. "When we discussed this with our Mate Tooling representative, Craig Letty, he recommended upgrading to the Premia system.

"Previously, we used a surface grinder to sharpen tools," continues Yates. "While it did the job, it was a slow process. When compared to how we sharpen now, we realize how difficult the job really was. Also, the old surface grinder was located in a factory area not easily accessible."

Upon Further Review

The new sharpening machine includes a 12.60-in.-dia. rotary table that tilts from 0 to 12 deg.; 3.3-kW motor; 7.8-in.-dia. grinding wheel with through-the-wheel coolant delivery; and a dual-stage filtering process. Among the punch-press tools used at J&S: shearing, semi-shearing, hole punching and embossing. Workpiece materials comprise mild and stainless steels, with the majority being 0.9- and 1.2-mm mild steel.

"Upon delivery of the Premia, Mate conducted a two-day review of our punching operations, evaluating our work practices and tool usage," Yates adds. "Examining our overall tool use and maintenance processes helped a lot. Because we sharpen daily, easy access to the sharpening system is important to minimize moves. We located the sharpening machine in a central area near our tool-storage and punching operations to facilitate efficient tool planning and use. Mate trained our operators on how to sharpen the tools to improve part quality and extend tool life, and they were up and running with the new machine by mid-afternoon of the day the machine was installed."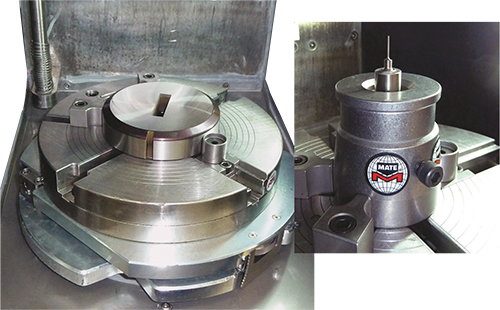 J&S's Premia tool-sharpening machine handles large station dies (left) as well as small-diameter punches (right).

Using the Premia, a typical tool-sharpening process at J&S has been reduced from an average of 25 min. to just a couple of minutes.

"And, we have been really surprised to find that the quality of the sharpened finish is nearly equal to that of new tools," adds Yates. "Compared to using a surface grinder on the tools, quality is improved by as much as 50 percent."

The new tool-sharpening system has eliminated burrs on part edges, and the Premia system accommodates even the smallest punches without danger of breakage—a problem previously experienced at J&S.