Bunting Expands Selection of Magnet Products
September 1, 2010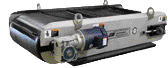 Bunting Magnetics Co., Newton, KS, has expanded its inventory of products available online, including additions to its bonded neodymium, sintered neodymium, samarium cobalt, alnico and ceramic magnet product lines. The selection includes more size and shape options for block, disc, plug and ring style magnets.
Bunting Magnetics: 847/593-2060; www.buntingmagnetics.com
See also: Bunting Magnetics Co.
Technologies: Tooling