Automatic Die Cushion Control
October 2, 2019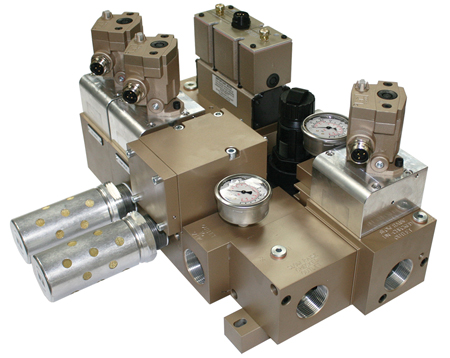 Ross Controls
Booth D45348
Ross Controls showcases its new automatic die cushion control system that integrates air-valve technology with electrical controls to monitor and control pressure in the die cushion. This base-mounted valve manifold complements the Ross family of assemblies for metal forming applications.
The system is available in a 1.5-in. inlet port size, and the units, which include a butterfly control valve and slow-raise cushion circuit, are furnished with M12 or Brad-Harrison connectors. Fill and dump valves interface with controls to monitor and maintain correct die cushion pressures.
This automatic die cushion control assembly, as described by company officials, quickly and easily controls pressure in the cushion accumulator tank, opens and closes a large butterfly valve between the tank and cushion cylinder, and provides a slow-raise function that fully extends the cushion cylinder without excessive, damaging force.
See also: Ross Controls
Technologies: Tooling