High-Tonnage Nitrogen Gas Springs
May 1, 2011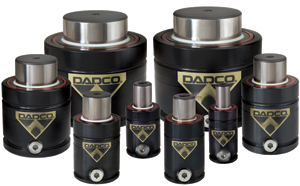 Dadco, Plymouth, MI, introduces the UH series of high-tonnage nitrogen gas springs, comprising eight models ranging from 32- to 120-mm dia., and contact force from 810 to 14,894 lb. The springs incorporate Dadco's UltraPak cartridge technology (bearing and seal) that optimize spring life. Stroke length for the series of springs peaks at 125 mm.
Request a catalog to view solid-model drawings of the cylinders, mounts and installation examples, along with force charts and accessories. CAD templates are available online as well.
Dadco: 734/207-1100; www.dadco.net
See also: DADCO, Inc.
Technologies: Tooling