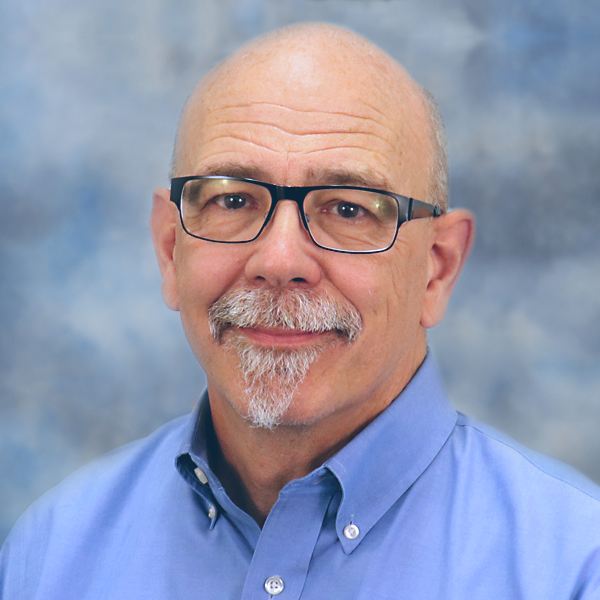 Peter Ulintz
A Close Shave
July 1, 2010
Question: I have a low-carbon steel part that is relatively thick—at least it is for us—at 0.125 in. It also has two holes and two tabs with tight tolerances (±0.001 in.). We would like to produce this part in a progressive die using shave operations rather than having it fineblanked. Unfortunately, shaving in a stamping die is something we have little experience with; could you provide us with some guidelines?
Answer: A simplified version of your stamping is shown in Fig. 1. The red areas depict those features that you wish to have shaved: two round holes and four straight edges.
Shave operations generally are associated with punched openings such as holes, but many free-edge features also can be shaved. In fact, most stamping applications requiring close tolerances on die-cut edges can be good candidates for shaving.
Here are some general guidelines for processing shaved features: First, let's consider the 0.375-in.-dia. holes in Fig. 1. To achieve these diameters from a shave punch it will be necessary to punch the holes somewhat smaller than 0.375 in.; but how much smaller do we make them?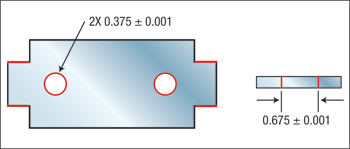 Fig. 1

Typically, the amount of material to be removed by shaving is about 10 percent of material thickness, for most materials. This provides a good surface finish and leaves enough material in the "scrap ring" for slug retention. This is an important point, because slug retention is generally considered to be the most common problem associated with shaving operations.

Why is slug retention such a problem? Here is my theory: Since the amount of material to be removed by shaving is somewhat related to the size of the fracture zone (die break), many die makers and tool engineers mistakenly believe that reducing the size of the fracture zone—by reducing the punch-to-die clearance in the punching station—reduces the amount of material being shaved. Thus, reducing shaving-related problems. Actually, this approach causes more problems than it solves.

Reducing punch-to-die cutting clearance will produce a larger shear (cut) band, a correspondingly smaller fracture zone and generate small burrs on the backside of the punched holes. A larger shear band creates a larger cold-worked zone, which makes shaving more difficult due to the increase in cutting forces, friction, punch fatigue, chipping and punch wear. The burr resulting from the tight clearances interferes with accurate part positioning over the matrix opening and it is very difficult to remove by shaving alone. A smaller scrap-ring web also results, making it very difficult to shed the scrap and keep it out of the die.