Fully Stocked Shop Floor
With 60 employees, including five with Trinity Biomedical, Reich Tool, is fully stocked to perform die build and repair, contract machining and assembly. Three mechanical tryout presses, the largest with a capacity of 400 tons, trial progressive and transfer tooling. For larger dies—Reich Tool recently built its largest yet, a 50,000-lb. monster stretching past 200 in.—the company performs tryout on bigger presses at an area stamper.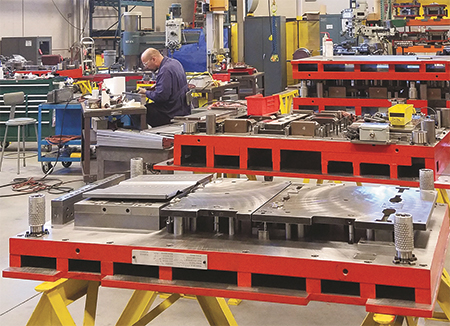 Over the past decade, Reich Tool's ability to build large dies has acted as a hedge against overseas competition, owing to the costs and logistics challenges in shipping the large, heavy work across oceans.

In the mid-1980s, Reich Tool set out on modernizing its stable of machining equipment, bringing in its first wire-EDM machine and first programming computer. Today, the operation features several wire-EDMs, CNC vertical-machining and turning equipment, bar feeders, a waterjet cutter and gas-metal-arc and gas-tungsten-arc welding capabilities.

Feeding the company's equipment is just about any type of material, from various steels including stainless to aluminum and titanium alloys, and other exotic alloys often found in aerospace and medical applications.

Showcased on the shop floor is a new five-axis DMC 65 MonoBlock machining center from DMG/Mori. Reich Tool turned the cell into a display area to showcase the unit's capabilities and the company's commitment to new machining technology. The machine features a three-station, auto-pallet tool changer and can accommodate 90 tools.

"This machine is designed to do 3D work in a production setting, in high volume or as one-offs," says Brett Reich.

High-speed machining at Reich Tool reaches 20,000 rpm, thanks in part to inclusion of through-the-tool coolant circulation to keep temperatures low.

The company also has added Swiss-type turning capability, allowing for detailed turning, threading, drilling, tapping and countersinking on components with diameters of less than 1 in. —a nod to Reich Tool's precision-machining expertise.

But precision work does not necessarily mean small work.

"Our equipment and work tables are large enough to construct die sets in a single setup," says Brett.

Committed to Workforce

Medical Contract Supported
Through All Company Divisions

Reich Tool & Design, encompassing stamping-tool design build and repair operations, a contract-machining division and Trinity Biomedical's cleanroom assembly operation, has occasionally seen work cross all three of these units to achieve a final product. A module used to create fields for CT scanners is one such example.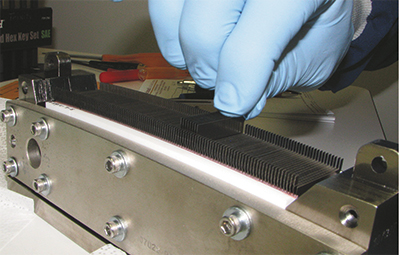 For each module, the tooling area flattens and cuts 232 fins made from 0.007-in.-thick type 302/304 full-hard stainless steel, which are further processed via wire-EDM work in the machining division. Machineable ceramic forms a base to hold the fins via precisely cut and spaced slots in the ceramic—spacing is critical to ensure creation of the correct electrical field. The fins are glued into the slots, with microwelding employed to attach wire leads. Swiss turning is another machining step, used to create inserts that also are placed into the module. Many of the assembly operations, including washing of the fins and entire module, take place in Trinity Biomedical's cleanroom. Wire leads then connect the modules to form a complete donut ring as the final assembly step, an operation also performed in the cleanroom.

Without all of these capabilities inhouse, Reich Tool may have never received this contract, according Fritz Reich, president.

Over the past decade, the ability to build large dies acted as a hedge against overseas competition for Reich Tool, owing to the costs and logistics challenges in shipping the large, heavy work across oceans.

Going big to battle overseas competition was just one way the company has sought to remain a stable employer for its workforce. In fact, employment stability was a major factor in diversifying into contract machining and assembly.

"Back when we were just building dies, we weren't diversified enough and didn't want to slow down and be forced to lay anyone off," says Fritz. "We value everyone who works here, so we decided that we needed a new business plan, which included this newer building and our ability to expand on this site to double our current size, and we set out to run lean. We've been 5S since 1992 and always perform kaizen events. We try to eliminate every footstep that we can in our layout and workflow."

Reich Tool also cross-trains employees, enabling proper staffing across the various operations and business units and allowing employees in slow-down operations to work in other areas of the company. It all fits with Reich Tool's family culture, says Fritz, noting that supervisors put on cookouts throughout the summer and employees band together to support numerous local charities.

In addition, Reich Tool supports the local high school's robotics team and works closely with local tech schools. The company has, at any one time, seven or eight apprentices, and often they end up as full-time employees.

"Wisconsin has very strong tech schools," says Fritz, "so we support them and we benefit by having access to potential employees with good skills." MF

Industry-Related Terms: Countersinking

,

Die

,

Form

,

Forming

,

Grinding

,

Run

,

Stainless Steel

,

Tapping

,

Transfer

,

Ultrasonic

,

Alloys

,

Center

,

CNC

,

CoreView Glossary of Metalforming Terms

Technologies: Tooling