Adds Djubek: "The press is incredibly flexible, improving blanking, forming and drawing operations. We use it for hand-fed and progressive work and, because of its flexibility, the machine serves as a backup to many of our other presses."
The most unusual discovery? The Ajax team found that it could take a tool from its hydraulic press, used for drawing, and run it on the new servo presses.
"That tool was actually too tall for the servo press' standard shut height," says Djubek. "But, we are actually able to run it in the servo press by programming its stroke so that it never reaches all the way to bottom dead center.
"We looked at the torque specifications of the press," Djubek continues, "and found that its direct drive provided a lot of torque very high in the stroke. This allows us to draw a part at just a little less than half of the press' stroke length. The servo's ability to achieve full energy at even 1 stroke/min. meant that we can program the best contact and draw speeds for optimum part quality without fear of stalling."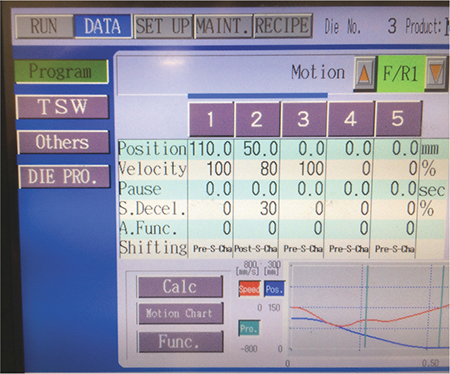 The slide's motion profile is programmed in steps on the servo press' control, with velocity set at various positions above bottom dead center (BDC). This particular program enables a rapid and brief deceleration at a position where blanking occurs, resulting in a significantly reduced reverse load. This allows materials such as stainless and HSLA steel to run at high parts/min. output while reducing damage to equipment and tooling caused by reverse load.

Not long after the two new-press installations, the Ajax sales team approached the tool-design group with a new part to quote, from 10-gauge Type 316 stainless steel. Slightly more than 6 in. long, the part is very narrow, less than ½ in. in places. It also had holes and cutouts paired with a challenging flatness specification. Since Ajax had run similar parts in the past, the team knew where the challenges would lay.

"Besides the reverse-load issues associated with blanking stainless, this part also had a shape that lent itself to twisting," says Djubek. "When forming these types of parts in the past, we'd start with a progressive die and add a secondary operation to flatten the parts. While an effective strategy, it adds labor and also creates work-in-process, with the associated added lead time and carrying costs."

This time, the team looked to the new servo capabilities to develop a more efficient forming process and reduce costs. It wasn't disappointed.

"We used the cushion in the servo press to help hold the part flat," says Wellman, "but the real breakthrough was the press' ability not only to pause but also to reverse direction."

Immediately after forming but prior to lifting off the strip, the press' programmable control switches on an air valve so that the die-mounted air cylinders actuate and allow grippers to grab the strip. As the ram lifts the strip the cushion also lifts the part. With the strip out of the way, the parts can be ejected—triggered by a programmable limit switch. The press only raises enough to allow the part to be ejected, then reverses direction and passes back through bottom dead center, releases the strip and lifts back up. The control sends a command to the feed on the way up and the press stops while awaiting a sensor input indicating that the strip has been fed forward. When the sensor indicates that the strip has fed into position, the press then reverses direction, thus restarting the entire sequence. The press never passes through the top of the stroke…something impossible to do without a servo press.

"We pass through the same positions multiple times but only activate certain devices on some of them," says Djubek. "The control made programming this quite simple. It was very intuitive."

Compared to the previous forming process, the part stays dead flat without a second tool and manual operation.

"We reduced the cost to manufacture a quality part, reduced work in process and reduced tooling expense for our customer," says Djubek.

"The new technology plus our creative team looking for ways to apply the servo's new capabilities are exactly what we need to stay ahead of our competition, foreign and domestic," adds Erick Ajax. "The sales and estimating group are looking at every new opportunity to improve the work we do for our customers with the new servo-press technology. It gives us a significant advantage that will separate us from those using aging technology." MF

Industry-Related Terms: Blanking

,

Center

,

CNC Turret Press

,

CNC

,

Die

,

Draw

,

Drawing

,

Forming

,

Grippers

,

Hydraulic Press

,

Lead Time

,

Model

,

Ram

,

Run

,

Stainless Steel

,

Stroke

,

Torque

,

Turret Press

,

TurretView Glossary of Metalforming Terms

See also: TCR-Integrated Stamping Systems

Technologies: Stamping Presses