Compact Direct-Drive Servo Motors
September 1, 2017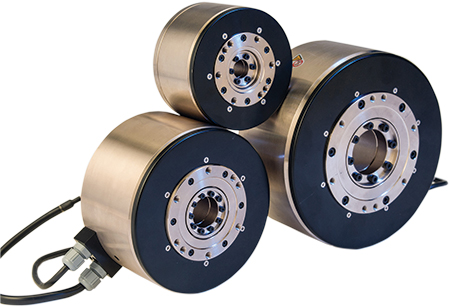 The Drives & Motion Division of Yaskawa America, Inc., Waukegan, IL, has introduced the SGM7F line of compact direct-drive servo motors that deliver 4 to 35 Nm of torque in devices as small as 2.1 in. high and 5.3 in. dia. The compact sizes make it possible to apply the mechanical benefits of a direct coupling between a servo motor and a load in tighter spaces than ever before, according to Yaskawa officials, allowing machine designers to make automated machinery more compact, thus freeing up space on plant floors.
Direct-drive motors such as those in the SGM7F line allow for attaching a load directly to the servo motor, enabling a full range of motion control without the need for a shaft coupling or gearhead. SGM7F also offers a high torsional stiffness and virtually eliminates mechanical backlash, according to company officials. This yields an output that minimizes damage to components and maximizes positioning accuracy and repeatability.
Other features:
Open-core design that adapts easily to shaft mounting and allows wiring to pass through easily

24-bit encoding for precise motion control

Self-cooled design that generates a low level of heat

Compact size and high torque, making it ideal for applications requiring downsizing and shorter cycle time



The SGM7F line offers eight different models to suit a range of industrial applications, including transfer lines, die actuators, electronic-parts assembly and dial tables.
Yaskawa America, Inc.: www.yaskawa.com
See also: Yaskawa America, Inc.
Technologies: Stamping Presses