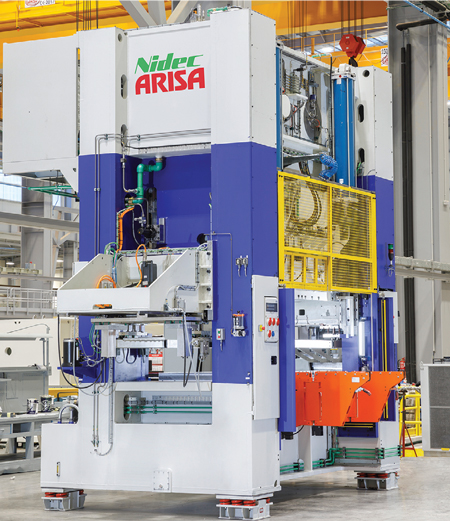 This 400-ton press features a fully integrated servo transfer system, liquid-cooled servo motor and low inertia drive train. Several of these systems will be installed in North American automotive supplier plants this year. See the Servo 2.0 sidebar for a discussion of new servo press technology.
"Wherever and whenever you have a servo press and servo transfer system, you add complexity," says Shrini Patil, product manager at Aida-America. "You need a proper understanding of the technology's capabilities to benefit from its flexibility. Stampers must exercise caution when programming a servo transfer because of the varying velocities throughout the cycle. You may have 40, 10 and 80 strokes/min. at different points. To achieve transfer, you are tracking virtual angles using binary codes, not the real crank angle as you would on a traditional mechanical press. That's our secret sauce."
More Servo, Please
It's safe to say, after listening to Ward discuss the benefits of servo-driven presses, that Midway's future will include more such machines.
"Servo technology," says Ward, "allows our R&D specialists, product designers and die designers to go further with advanced designs and higher-strength steels while eliminating secondary operations." MF
Servo 2.0
What's trending when it comes to servo presses and what's ahead for the once-niche technology? MetalForming recently posed related questions to two industry experts: Jim Schulte, Arisa product manager at Nidec Minster in Minster, OH, and Lee Ellard, national sales manager at Stamtec, Inc., Manchester, TN.
MetalForming: How is the industry's use of servo presses changing?
Schulte: When we introduced our first servomechanical press in 2009, it was all about flexibility. Instead of running two presses—one with a long stroke and one with a short stroke—customers found that they could combine a variety of applications in one press. Now we are moving beyond that and users are finding ways to optimize the technology.
MetalForming: What does that look like?
Schulte: Historically, the press was the big hammer and you might have a servo transfer system and ancillary equipment. Now, with today's servo transfer technology, the emphasis is on synchronization and integration of processors. That's where we find productivity improvement. It is possible to have as many as eight motors, all controlling different axes with a single control. In addition, drivetrain improvements such as liquid-cooled motors and planetary gearboxes allow more-powerful motors in smaller packages, contributing to faster stops and quicker acceleration, enabling greater manipulation of parts profiles.
MetalForming: How would you characterize today's market for servo presses?
Ellard: Large companies, particularly in automotive, were quicker to understand that the benefits of the servo technology often outweigh the cost differential. Consequently, these companies were quicker to adopt the technology, especially in their large transfer presses and tandem lines, typically 1100 tons and up. It took longer for the smaller shops to get there, but now we are seeing more interest even from the small shops, and for smaller machines (110 to 600 tons).
MetalForming: What about cost?
Ellard: The premium associated with servo over mechanical presses is narrowing. It is still not to the point where everyone will buy servo presses, but the gap has closed. Five years ago, the servo press cost was double that of mechanical presses. Now, it's about 1.5 times.
MetalForming: What lies ahead for servo?
Ellard: Optimizing servo press performance calls for optimizing tooling, in-die processes and automation to take full advantage of servo press capabilities. In fact, the bottleneck for fully realizing servo press potential lies squarely with the parts manufacturers and tool builders learning to design and build tools for servo presses. We are seeing more creative dies because the technology affords virtually unlimited stroke and motion profiles. The evolution of dies will continue, as will the level of sophistication when it comes to integrating controls, processes and automation.
Schulte: Look for ongoing advancements in sensoring and monitoring of all the systems in a press. Knowing problems in advance—predictive analysis—will be the next quantum leap.

See also: Stamtec, Inc., Nidec Press & Automation, Aida-America Corp.
Technologies: Stamping Presses