It took two weeks to get a replacement part, and a few more weeks to complete the repair," Carson recalls. Forced to outsource production on those eight large dies for such a long period of time, company management decided to take a closer look at adding a new press to the plant's arsenal. After much discussion and careful planning, Carson and the production team welcomed, late in 2019, a new press line into the facility. Anchored by a Stamtec 880-ton eccentric-geared mechanical press, the line also features a 51-in.-capacity uncoiler/straightener combo, servo feeder, 10-ton-capacity coil car, 118-in.-long loop table and Link Electric's state-of-the-art OmniLink 5100 APC automation press control, complete with Link's LinkNet 3 software for shop-floor monitoring and data collection."
The Link control and LinkNet software is one of the reasons that we partnered with Stamtec on this project," McFarland says. "We've used earlier versions of LinkNet on our other presses, mostly to track die use and help direct die-maintenance operations in the toolroom. Now, as part of our continuous-improvement emphasis, we can use LinkNet to help drive overall equipment effectiveness. We know for example, from operator-entered downtime codes into LinkNet, that we need to work on, and improve, how we're staging material and moving coils in, and parts out, of the press cell."
An Economical Investment
"With some 40 percent of our stamping capacity tied to that 600-ton press, we absolutely needed a backup," says McFarland. "We liked the idea of a turnkey solution, and turned to Stamtec not only for the press but for the entire line."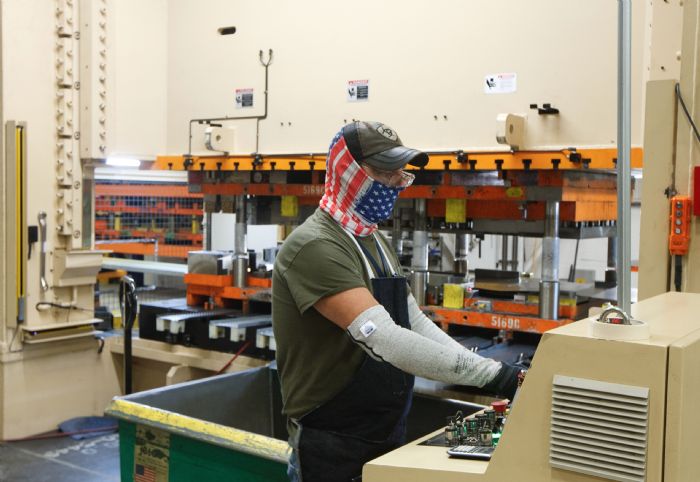 In the several months since commissioning its new press—complete with a new concrete foundation that required excavating 60 ft. deep to take an underground creek out of play—Carson and his team have moved all eight of the large dies used to stamp safety-switch cabinets off of the 600-ton press.
"We still use that 600-ton press, but for less-critical and lower-tonnage work on smaller parts," Carson says. "Now, with the added capacity and larger 144-in. bed on the Stamtec, as well as the 51-in. coil line (the 600-ton press runs coil from a 36-in. coil line), we can look at bringing in even larger dies. For our largest switches, we still have to form those case parts on a press brake."
Asked to discuss the economics of stamping the cases compared to fabricating them, the plant's manufacturing manager Todd Berghoff says, succinctly: "Stamping changes everything. We go from needing two shifts of production in the fabrication shop to fulfill an order to just 4 hr. in the pressroom, to complete a comparably sized order."
Since its commissioning late last year, the new Stamtec line has been producing at an annual rate of around 1 million stamped cases, from cold-rolled and galvanized steel, 0.43 to 0.70 in. thick. "Producing these on a progressive die, compared to using a press brake, allows us to put all of the features—knockouts and the like—into the sheet metal in one operation," Carson says. "All we have to do after stamping is weld a flange on and add the cover. One large die replaces nine separate operations on a series of OBI presses."
There's Nothing Like New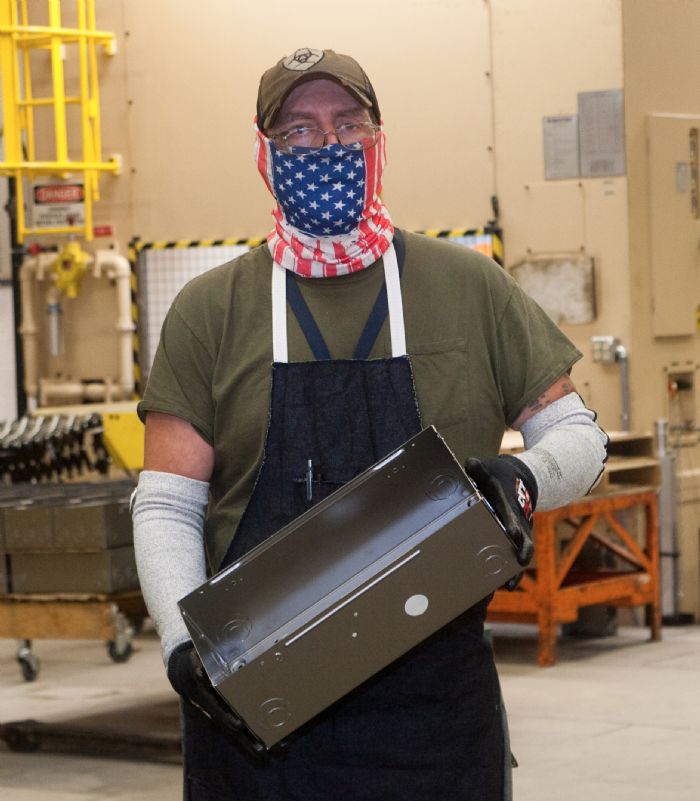 Comparing part quality from the old 600-ton press to the parts coming off of the new Stamtec, "there is no comparison," Carson says. "To ensure that we were meeting dimensional tolerances, to help with assembling the cases after stamping, we used to have to shim the dies quite a bit on the old 600-ton press. Now, the precision and repeatability of the new press has eliminated any need for shimming.
"In addition," he continues, "one of those eight dies we ran on the 600-ton press would typically exhibit uneven wear after several part runs, likely due to uneven loading across the bed. With the new press and its inherent precision, that problem, too, has gone away."
An Inspirational Lift
"Bringing in this new press was a huge deal—for our team, our company and this area in general," concludes Berghoff. "Eaton operates several manufacturing facilities around the world, so for the company to invest in our plant and enable us to increase our capacity and improve our metal stamping capabilities took a lot of work—by Ricky, Coty and others. The impact of those efforts cannot be understated, from developing a sound and convincing cost-justification strategy, to planning and overseeing the complex and challenging foundation work, to specifying and commissioning the line. This was a huge project that's had a big payoff, and it's been an inspirational lift to our employees and to the community." MF
See also: Link Systems, Stamtec, Inc.
Technologies: Stamping Presses