110-Metric-Ton, 300-Strokes/Min. Press
June 20, 2023
Aida-America
Booth D40902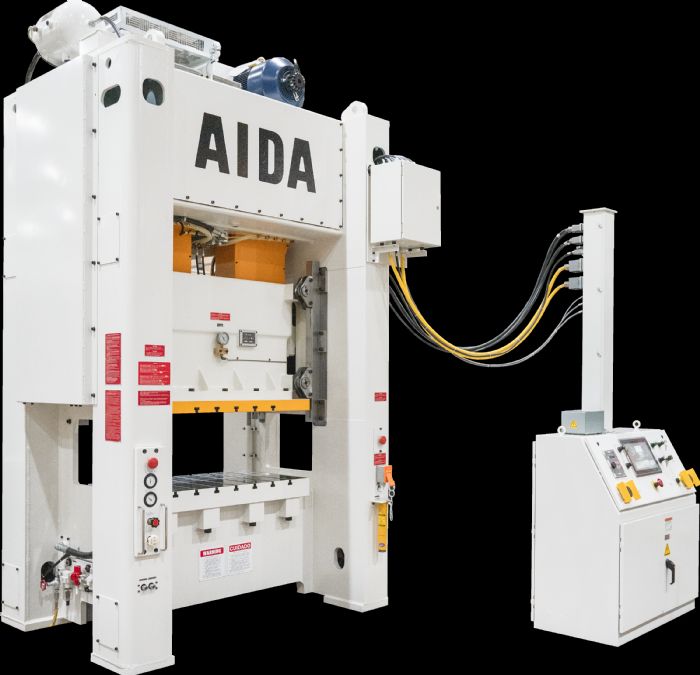 Aida-America introduces the NSX mechanical stamping press, a two point, 110-metric ton, unitized-frame press capable of speeds ranging from 120 to 300 strokes/min. Accuracy is ensured by a zero-clearance, lubrication-free, eight-point roller slide guide system and by dual counter-rotating eccentric shafts. Press and die integrity are protected by Aida's metal seal-type hydraulic overload protection (HOLP), reportedly the fastest acting HOLP in the industry at 10 msec. to zero pressure.
Additional features include Inboard-mounted carbon-fiber counterbalances; quill-mounted flywheel; pneumatic combination clutch-brake unit placed outside of the flywheel; 65-mm stroke length; 50-in. bed left to right; quick-access, extended-range, powered slide adjustment; and plug-and-play control junction box with standard Rockwell Allen-Bradley control, or (optional) Link OmniLink 5000 or Wintriss SmartPAC controls.
See also: Aida-America Corp.
Technologies: Stamping Presses