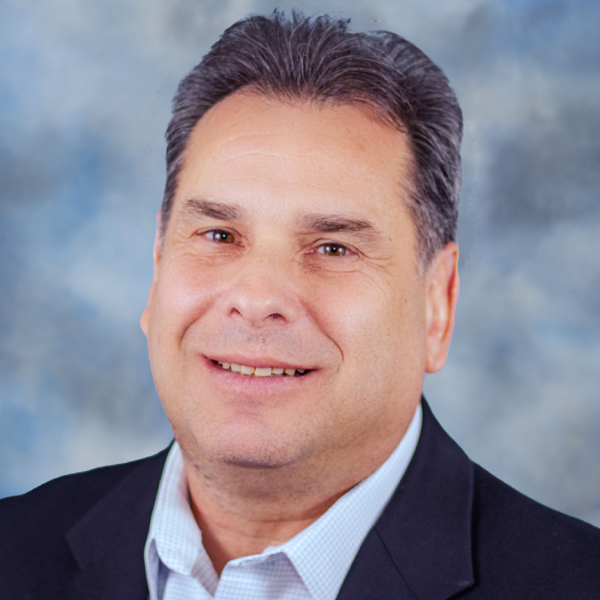 Brad Kuvin
Heavy-Handed Hydraulic Press Draws Applause at OCC
May 1, 2009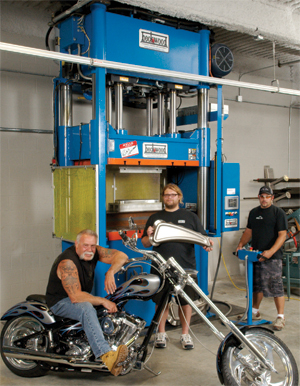 OCC uses its new 350-ton (75-ton cushion) Beckwood hydraulic press primarily to deep draw fuel-tank sections (shown) and fenders for its Limited Edition Production Bike Line, launched in 2007. The company sells 150 to 200 production bikes a year, all manufactured at its 100,000-sq.-ft. facility in upstate New York.
Like kids on Christmas morning, the metal-fabrication crew at Orange County Choppers (OCC) in Newburgh, NY, welcomed its new 350-ton hydraulic draw press last August wide-eyed with excitement, and curious as to its capabilities. One crushed oil drum later (and a basketball and steel I-beam as well), it quickly set out to learn how the press, a custom build from Beckwood Corp., St. Louis, MO, could help the custom-bike builder move its outsourced deep-draw stamping work inhouse. Within a few months, the team, with help from Beckwood technicians, built a set of form dies and fine-tuned the drawing process, thanks in no small part to the flexibility and programmability of the press. As a result, lead time and productivity related to fuel-tank and fender stamping improved.
"The ability to form and fabricate gas tanks and fenders inhouse was the final step we needed to take to optimize our production line," says Jim Quinn, OCC's general manager, referring to the company's Limited Edition Production Bike Line launched in 2007. Each production bike is hand-built in the OCC shop using all-American parts. OCC makes 150 to 200 of the production-line bikes per year over six models, all of which share the same basic deep-drawn fender blank, and three fuel-tank designs. It then uses its five-axis waterjet-cutting machine to custom-trim the fenders for each specific bike model. Fenders are of 12-gauge draw-quality steel, fuel tanks of 14-gauge steel.
In addition to the hydraulic press and waterjet machine, the 100,000-sq.-ft. facility—40,000 sq. ft. dedicated to manufacturing—also houses four Haas machining centers and two CNC lathes.
"Outsourcing fenders and gas-tank halves meant we had to deal with the time and cost of shipping, which led to lengthy lead times when we made design changes," says Quinn. The company expects to keep its production lineup fresh, with periodic design changes, and strives to keep its manufacturing processes flexible to accommodate new designs and requirements for new parts. It also, according to OCC founder Paul Teutel Sr., hopes to soon offer contract metal-fabricating services with its array of state-of-the-art machines.
"We've got the fenders down," Teutel says, "and we're close with the gas tanks. Within the next year we think we'll be ready to offer full contract job-shop fabricating."
Draw Quality and Repeatability Improved
In addition to timing and flexibility, quality of the outsourced deep-drawn parts also had been a concern, and Quinn quickly learned how to tune the press and tooling to improve repeatability—forming parts with more consistency than he had been receiving with the sourced stampings. Better repeatability has streamlined downstream finishing operations.