Capacity Needs Drove Press Purchases
Today, Envision Engineering boasts eight stamping presses—including the December arrival—in capacities to 500 tons along with one three-axis and two five-axis laser-cutting machines and backed by other equipment that allows the company to perform all needed processes inhouse. The exceptions are e-coat and powder coating. Those are performed by Grand Rapids-area partners.
"With our unique skill set and the equipment at our disposal, we not only design and build dies and produce parts, but we also can work with larger OEMs and their tier suppliers on bridge builds and prototypes," offers Roerig.
Expanding its hydraulic-press capabilities grew out of Envision Engineering's need to boost capacity.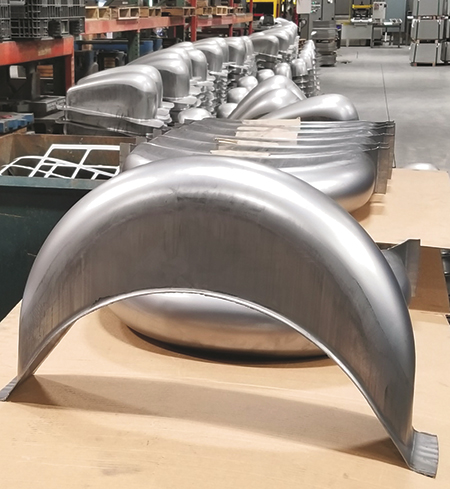 This fender, along with fuel-tank-shell halves stacked to the left, are formed on a new hydraulic press. Envision Engineering draws parts to as deep as 13 in.
"We were worried about our older presses breaking down and we could not afford downtime, so we began looking at new presses," Roerig recalls. "Four years ago, we purchased a new Macrodyne 500-ton hydraulic press. Because it would be built nearby (in Concord, Ontario, Canada), we were comfortable with our selection, and Macrodyne has followed through with collaboration and customer service to ensure that the press could do what we needed it to do."
Adds VanderWilp: "We can program the 500-ton press for needed tonnage and store recipes, and receive feedback from the press as to tonnage and shut-height needs based on the tooling. It is a huge upgrade to our older presses and is extremely safe to operate. The same holds true for the current 400-ton press and the 500-ton press to be installed later this year."
The new deep-draw presses at Envision Engineering provide optimal control of force distribution and material flow, resulting in structurally superior finished parts while eliminating wrinkling or tearing of the material, according to Macrodyne officials.
Envision Engineering stamps mild and stainless steels as well as aluminum alloys in thicknesses to 1⁄8 in., according to Pat McGill, general manager. Annual volumes run the gamut from 100 to 80,000 parts, with runs to 50,000 parts identified as the company's forte, according to Roerig.
Some draws at Envision Engineering reach 13 in., according to VanderWilp, and the 500-ton Macrodyne press can produce a flawless drawn part in less than 60 sec. For shallow draws or forms, it can deliver as many as 20 parts/min. Again, tonnage control combined with recipe storage enables precise press tuning across the variety of parts produced.
Pressed for Growth
With Envision Engineering's added deep-draw capacity courtesy of its hydraulic-press investment, the company has ramped up its services to customers looking for tooling expertise and low-volume production, as well as help with bridge projects and prototyping. The company has designed and built two unique robotic-welding cells, and Envision also uses two robotic-grinding cells to finish cosmetic parts efficiently and accurately. Its laser-cutting roster provides precise laser trimming and prototype fabrication. In addition, a fully outfitted inspection department measures inhouse quality and also can certify outside jigs and fixtures.
"Lower-volume companies come to us because they can procure production-grade tooling for a reasonable cost, and we are flexible and can meet demanding schedules," says McGill, describing Envision Engineering's sweet spot in the industry.
In fact, McGill at one time worked for a customer that chose Envision Engineering precisely because it could supply tooling economically and deliver parts on tight schedules.
"One of our competitive strengths is our tooling process for lower-volume applications, McGill reiterates. "Another is our time to market, from the time we receive a purchase order to when we deliver first parts. That is why many larger companies choose us for bridge builds before their production suppliers can get up and running. In one case, for an electric-vehicle OEM, we met the demand for first parts out within three weeks and ended up supplying 9000 sets of parts before the production supplier was ready."
That's a long way from Envision Engineering's pole-barn roots, and an excellent example of its successful path forward. MF
See also: Macrodyne Technologies, Inc.
Technologies: Stamping Presses