New Hot Stamping Lines for OEMs in Germany
January 29, 2020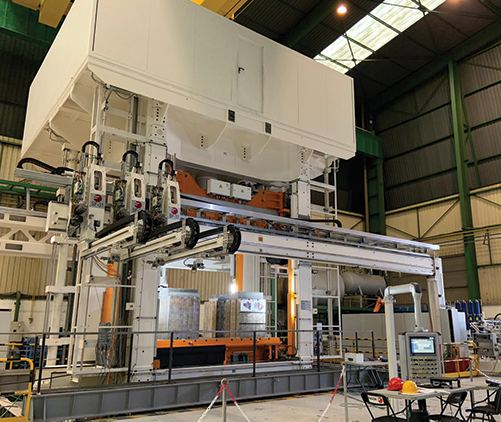 Fagor Arrasate has been active in the fast-growing hot stamping arena, having recently delivered two turnkey lines to German operations of automaker Seat-Barcelona, one at Volkswagen Kassel and another at PSA/Opel Kaiserslaitern, as well as supplying several lines to Tier One customers. In addition, the company recently tapped industry veteran Gerald Schulz as global sales director for press hardening.
"Thanks to Schulz's sales experience and market knowledge, we now are able to exploit our technological potential to the fullest, which we have had the opportunity to demonstrate in recent projects," says Aitor Ormaetxea, hot stamping director at Fagor Arrasate.
The turnkey hot stamping line supplied to VW Kassel includes two parallel roller furnaces, three freely programmable loading feeders and an end-of-line solution that allows fully automatic or manual racking. Three loading feeders and a die-control drive system enable each blank exiting the furnace to be moved independently to the die instead of in groups. This setup results in smaller-sized furnaces, given that after leaving the oven the pieces are separated to be stamped. With this automation and a powerful hydraulic unit, the press can attain high processing speeds, according to company officials.
Fagor Arrasate earned this project after the installation of two productive hot stamping lines at another of the company's plants, according to Fagor Arrasate officials. These lines, fully automated in both loading of forms and stacking of parts, also contain parallel ovens for heating blanks. A Fagor LR3-120 feeder in each line allows rapid transportation of the hot blanks to the die. A shuttle and three Kuka robots automatically place the newly stamped parts in the stacking containers. An additional output belt allows for part inspection.

See also: Fagor Arrasate USA, Inc.
Technologies: Coil and Sheet Handling, Pressroom Automation, Stamping Presses