Nesting Advancements Are Key to Equipment Optimization
May 1, 2018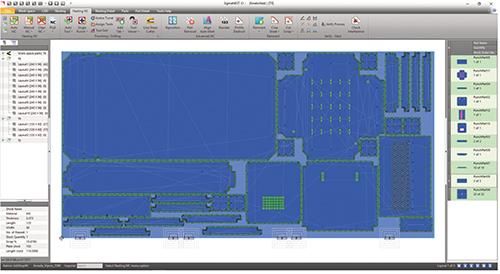 From lasers to plasma, punch, warterjet and beyond, metal-processing equipment represents a significant investment for any job shop, fab shop, steel service center or manufacturer. Maximizing and accelerating the return on investment is critical, and it only makes sense to drive such advanced equipment with sophisticated software designed to leverage the machines' capabilities.
To this end, more fabricators are replacing basic software with more advanced nesting applications. Glenn Durham, vice president of engineering for SigmaTek, recently took time to share what fabricators need to know.
Scrap reduction and accelerated cutting cycles are a few of the obvious benefits of nesting programs. Where else do nesting programs make a difference?
Durham: Nesting not only is about scrap reduction. It also is about part placement for manufacturability. Companies such as ours want to help manufacturers reduce scrap by providing tools that make it easier and more efficient to track and reuse drops.
There are situations in which optimization of the part's location is required before considering material utilization. For example, vacuum-table routers have the strongest suction in the center of a sheet. Therefore, nesting must prioritize placement of the largest parts, which need less suction to remain stable during cutting. Nesting of larger parts occurs around the outside of the sheet and farthest from the center of the table. Nesting of smaller parts occurs toward the center of the sheet, where table suction is greater.
Another example: nesting for machines that drag the sheet. In these nests, we must lay the largest parts down closest to the clamps and then cut parts farthest from the clamps. Design for manufacturability means understanding machine specifics to produce the best nest and apply a proper toolpath.
Cutting machines generally come with a pre-installed nesting program. At what point should a fabricator consider upgrading to more advanced software?