Marposs Debuts Brankamp Machine Terminal for Equipment Data Acquisition
March 10, 2021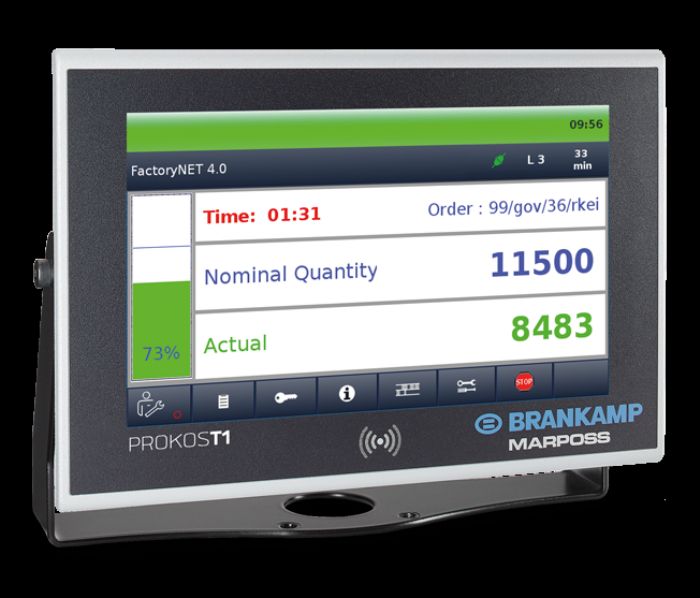 Marposs, Auburn Hills, MI, introduces the Brankamp T1 Machine Terminal 4.0, designed to provide data acquisition from auxiliary forming equipment that does not have its own process-monitoring capability. Examples include automatic sorters, hardening furnaces and packaging machines. The DC terminals provide information on machine status, part counts, and batch numbers, and offer scrap reporting.
A scheduler-manager function shows upcoming orders, and order-management enables the start, stop or interruption of orders as well as the declaration of scrap quantities. In addition to production data, the T1 offers machine instructions for stop or release output, machine lock in case of missing user input, and lamp control. A stop-and-go diagram illustrates runtime analysis, and machine setup is easily accomplished by pressing an assigned button.
The compact T1 features a 7-in. touchscreen color display with four digital inputs and outputs for direct connection to the machine control. This includes a lamp connection for warning or stop messages, direct connection to the machine cycle or PLC for precise parts counting, and a connection option for a printer or barcode scanner.
The units can interface with Brankamp FactoryNet 4.0 MES software to collect and deliver real-time data from connected machines, providing information on production cycles, processes, and quality as well as resources available and required.
FactoryNET 4.0 enables end-to-end documentation of processes due to its connection directly with process monitoring. Production costs and quality are transparent and traceable through statistical recording and evaluation of performance indicators.
See also: Marposs Corp.
Technologies: Sensing/Electronics/IOT