Electro-Hydraulic Motion Controller Supports as Many as 32 Axes
September 1, 2016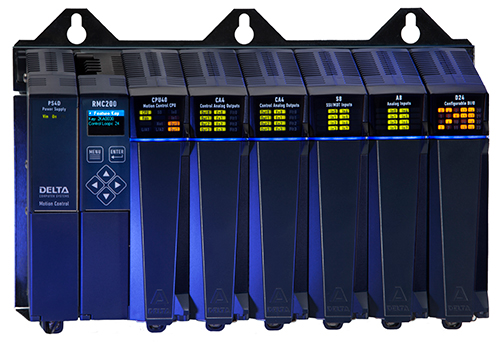 Delta Computer Systems Inc., Battle Ground, WA, has introduced the RMC200 closed-loop electro-hydraulic motion controller, extending the capabilities of previous generations of RMC motion controllers in order to control as many as 32 axes. It employs Delta's RMCTools software for setup, tuning, programming and diagnostics, which help to shorten application development and deployment times with a graphical programming interface, a powerful motion plotting tool, and a Tuning Wizard.
A single RMC200 now can manage the motion of a complete metals-processing production line or a complex testing application involving numerous sensor inputs. As with the other Delta controllers, the RMC200 synchronizes the motion of multiple axes to enable the construction of machines with scalable performance and quick production changeovers. It also provides built-in support for controlling pressure/force as well as position/velocity/ acceleration. The controller can transition smoothly between these control modes, enabling smooth, reliable motion.
Physical enhancements to the RMC200 include a display screen on the CPU, I/O modules with push-in wire connectors, and fully encased, user-installable modules that rock-in to provide power-sequencing capability.
Delta Computer Systems: www.deltamotion.com
See also: Delta Computer Systems, Inc.
Technologies: Sensing/Electronics/IOT