Faro Debuts Vantage Max Large-Volume 3D Measurement Systems
September 15, 2022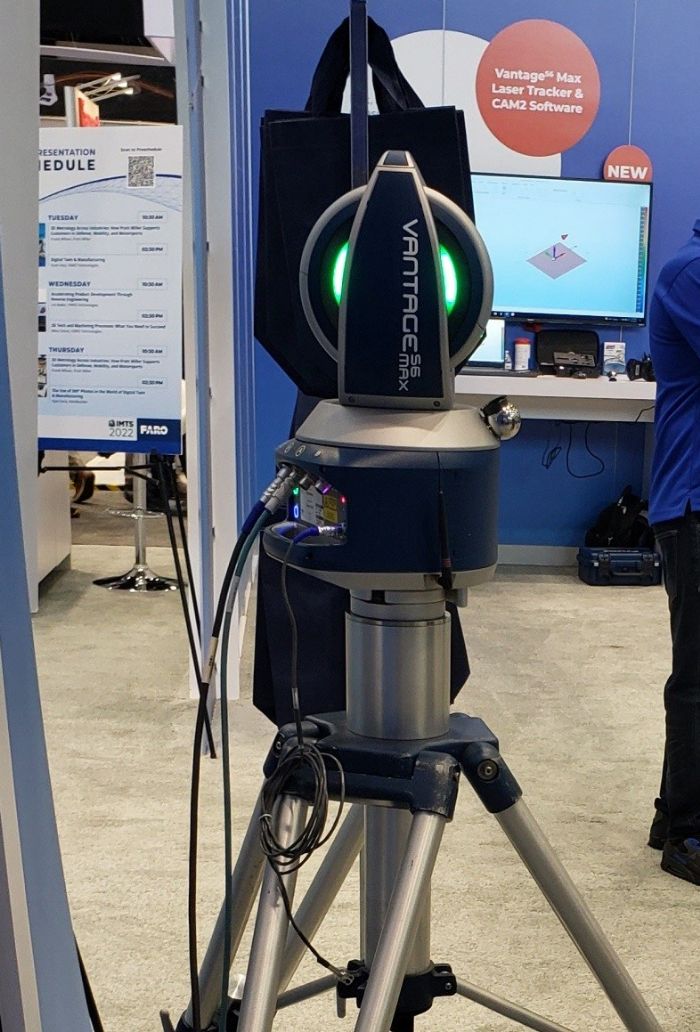 Portable inspection just became more precise and easier to use thanks to the introduction by Faro technologies of the VantageS6 Max and VantageE6 Max laser trackers, which company officials tout as enabling fabricators to improve inspection and measurement productivity by 20 percent. As explained to MetalForming during IMTS, the new laser trackers offer large-volume 3D measurement up to 80 m, streamlining processes and reducing inspection-cycle times while ensuring complete confidence in the results.
The new Vantage Max enables manufacturers to increase throughput while maintaining high inspection accuracy with a 3D metrology option. The trackers maximize six degrees of freedom measurement capabilities via an optional 6Probe, enabling precise measurement of hidden areas and small features. The 6Probe meets the dynamic-measurement, speed and accuracy requirements of challenging industrial applications. With kinematic self-identifying styli, users can quickly change probing tips and measure without any recalibration, and measure hidden areas outside of the tracker's line of sight with wide acceptance angles.
In addition, the Vantage Max provides accurate probing that helps quicken inspections and reduce the number of tooling changes and device moves. Previously, users relied on a spherically mounted retroreflector (SMR) to measure high accuracy points. To take these measurements, the user had to select an appropriate target nest and have line of sight.
"With the higher accuracy of the Vantage Max, users can probe more points beyond the line of sight, using an SMR only for alignment points and ultra-precision measurements," says Leo Martinez, Faro product marketing manager. "This results in a significant productivity improvement of 20 percent compared to lower-accuracy probes."
See also: Faro Technologies Inc.
Technologies: Quality Control