New RFID Reader Reads Individual Tags to 3 ft. Away
June 1, 2018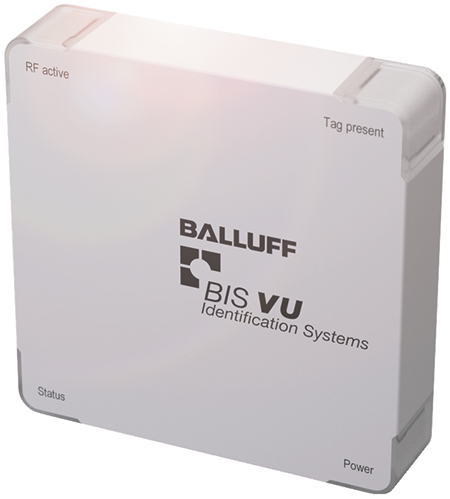 Balluff has debuted its BIS VU-320 UHF reader, adding UHF capabilities to the BIS V multichannel processor, which now can accept readers in the low, high and ultra-high frequencies. In addition, all three frequencies can operate simultaneously. For flexible manufacturing in markets such as automotive, assembly and packaging, the ability to integrate multiple traceability applications with one processor has made RFID solutions even more cost-effective, and simplifies the RFID architecture, according to company officials.
"A driving force behind the development of the VU-320 reader was the need to read tags at 1 to 3 ft. away," says Wolfgang Kratzenberg, marketing manager for industrial identification at Balluff. "The typical read range of LF and HF readers is just a few inches."
With most UHF readers, according to Balluff officials, the read range can extend to 20 ft. or more, making it virtually impossible to single out one tag on a production line. This reader, says Kratzenberg, will be ideal for flexible manufacturing applications where the read range will vary from 1 in. to 3 ft., depending on the size of the product being manufactured.
Besides an IP67 rating that enables it to withstand harsh environments, the VU-320 features four highly visible LEDs that simplify the troubleshooting process, eliminating the need to access a web server or PLC to determine if a tag is being read or if the antenna is sending a signal. Because the VU-320 is a part of the BIS V-processor portfolio, it can communicate via Profibus, Profinet, Ethernet/IP, CC-Link, Ethercat and TCP/IP.
The UHF reader is fully ready for Industrial Internet of Things appilication integration. And, a full line of mounting accessories and connection cables for the reader is available.
Balluff Inc.: www.balluff.com
See also: Balluff, Inc.
Technologies: Pressroom Automation, Quality Control