Cobot Arc Welding by the Hour
January 29, 2020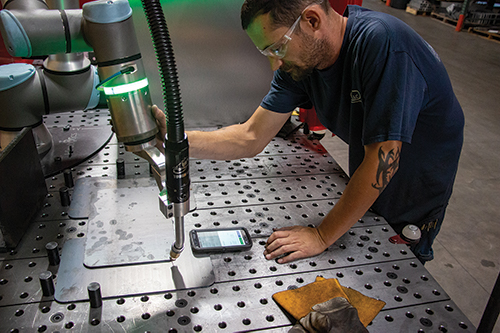 At FABTECH, Universal Robots offered info on the new BotX Welder, a robotic arc welding system developed by Hirebotics, Red-D-Arc and Airgas, and utilizing a UR10e cobot. The system addresses, according to the developers, two major hurdles of robotic arc welding: ease of programming and the ease in which a fabricator can obtain the system without assuming the cost of ownership. The BotX features no installation costs, and with cloud monitoring, users pay only for the hours the system actually welds. This enables a manufacturer to hire the BotX as business needs dictate.
"We chose Universal Robots to power BotX for several reasons," says Rob Goldiez, co-founder and CEO of Hirebotics. "With Universal Robots' open architecture, we were able to control not only wire-feed speed and voltage, but torch angle as well, which ensures a quality weld every time."
Users can teach the system required welds via an intuitive app on any smartphone or tablet utilizing a library of welding recipes contained in the BotX software developed specifically for the BotX and optimized to work with Airgas' Arcal shielding gas. The complete product offering includes the UR10e cobot arm, cloud connector, welder, wire feeder, gas metal arc welding gun, weld table and configurable user-input touch buttons. The BotX performed live welding in the Airgas and OnShape booths at FABTECH.
See also: Universal Robots
Technologies: Pressroom Automation, Welding and Joining