New Vacuum Cups Offer Improved Traction for High-Speed Transfer Duty
December 1, 2016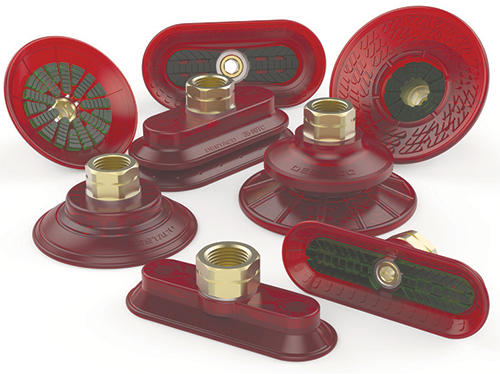 Destaco, Auburn Hills, MI, has launched its new Accelerate collection of vacuum cups, made of a wide range of aluminum end-effector components and offering improved traction, enhanced durability and higher throughput for high-speed transfer-press applications. The vacuum cups feature an antislip tread pattern made from a high-performance polyurethane material for superior holding on oily surfaces.
"As manufacturers look to improve production rates, lightweighting becomes increasingly important, especially as it relates to automation tooling such as end effectors and transfer-press fingers," says Ben Pauzus, global product manager, end effectors. "Lighter solutions that offer higher holding power give customers the best opportunity to increase throughput. And, the polyurethane material is more durable allowing for fewer PM cycles and less downtime."
The new line includes four cup styles in 17 sizes.
Destaco: www.destaco.com
See also: Destaco
Technologies: Pressroom Automation