Lifting Magnets Perform a Variety of Metal Forming Facility Tasks
April 23, 2020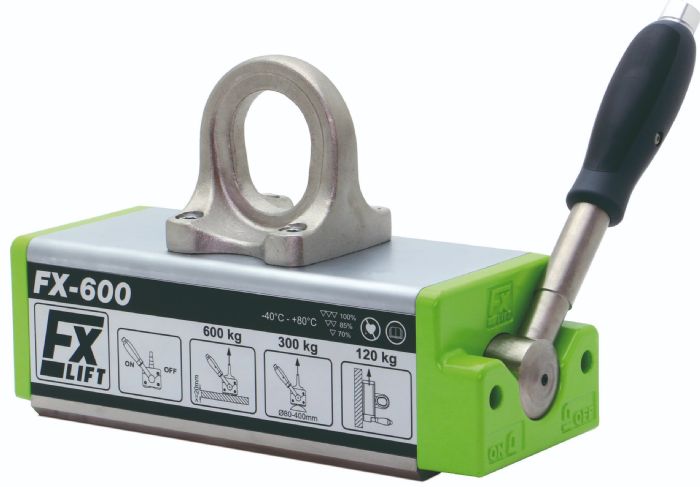 Put the FX Series of lifting magnets, from Industrial Magnetics, Inc., to work throughout your metal forming and fabricating facility. Available in six standard sizes and with a working-load limit to 6600 lb., the magnets fit the bill for lifting flats and rounds in a variety of applications. The units work with a single-magnet system consisting of high-energy rare-earth half-shell magnets, fully activated and deactivated with only 90 deg. of switching travel, via the on/off handle. Traditional on/off handle lifts require 180 deg. of rotation. The handle locks in the on and off positions, and the units are heat resistant to 180 F (except for the FXV high temperature version). FX Series magnets eliminate the rebound effect that users encounter due to the magnetic force, and offer a self-locking design.
Industrial-grade construction includes a ball-bearing switch shaft and the half-shell structure, eliminating magnetic losses due to internal short-circuiting; one-piece construction their entire length, without welds or tapered transitions, makes them virtually indestructible.
In addition, the patent-pending design features a reduction of the inner air gap in the magnet system, optimizing performance while reducing costs and conserving magnetic material, protecting the environment. The magnets provide a 3:1 design factor, and meet 2018 ASME B30.20 BTH-1 Design Category B, Service Class 3, and are standard-compliant and tested to meet CE/EN 13155/MRL 2006/42 EWG specifications.
See also: Industrial Magnetics, Inc.
Technologies: Pressroom Automation