Friction Cups Grip Slippery Materials
August 23, 2019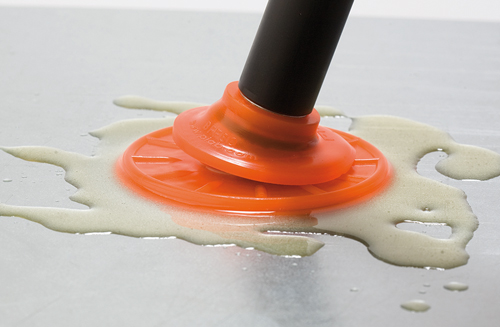 New from Piab, DuraFlex friction cups, a line of suction cups designed to provide grip on oily and wet surfaces. A special grip pattern enables operators to safely and reliably move slippery metal goods without slowing production lines, and allows manufacturers to reduce product droppage and lower scrap rates.
The cups feature a rough cleat surface and sharp cleat edges and channels. This design creates greater friction and a stronger hold compared to traditional-traction suction cups, according to company officials, noting that normal cup abrasion resulting from handling oily sheets does not degrade the shear-force performance of Piab's friction cups over time, translating to longer cup life.
The cups reportedly maintain their hold on heavy and slippery sheets during accelerations and de-accelerations, especially in cases of emergency stoppage. All parts are maintained in the proper position to facilitate applications such as stamping, reducing scrapped products and improving overall line sustainability. Made of DuraFlex polyurethane, the cups will not break or crack after exposure to ultraviolet light, heat or ozone, which is an issue with cups comprised of rubber compounds, claim Piab officials.
To prevent surface damage on thin metal sheets common in automotive and large-appliance applications, the cups feature a dual-hardness design and soft cup body. Sealing the cups to part surfaces requires lower vacuum force than with other types of cups, meaning gentler handling. Also, the soft cup lips mold easily to curved surfaces, resulting in less vacuum leakage and stronger grip.