Automated Pipe Moving and Cutting
August 1, 2018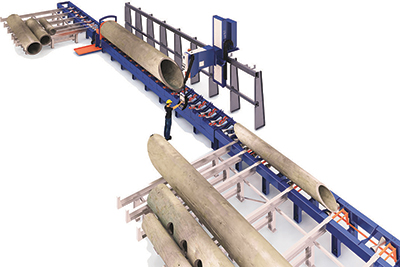 HGG Profiling Equipment's new SPC 1200 RB pipe-cutting and 3D-profiling machine combines the logistics of an automated roller bed for moving pipes in and out, while incorporating a floating chuck for accurate cutting precision and repeatability. The unit accommodates pipe in diameters from 3 to 48 in. and in lengths from 20 to 40 ft., and accurately cuts pipe walls in thicknesses to 6 in.
SPC 1200 RB integration combines the benefits of two types of pipe-cutting machines. With the logistics of in-feed and out-feed conveyors, the machine eliminates the need to use cranes to move individual pipes. Then, by integrating a chuck, users can experience accurate on-the-fly measurement and compensation of longitudinal pipe movement (creep) during rotation of the pipe, along with repeatability.
These pipe-cutting machines are equipped with patented biaxial cutting heads that can be used to cut with either or both oxyfuel and plasma. Design flexibility enables the SPC 1200 RB to be configured to multiple layout combinations, allowing customers to fit the machine to a variety of floor-space requirements and logistical flows. The machine also has built-in fume extraction: When connected to a proper dust collector, it draws most fumes out, keeping the shop virtually smoke-free.
HGG Profiling Equipment: www.hgg-group.com
See also: HGG Profiling
Technologies: Pressroom Automation