Aluminum End Effectors Lighten the Load on Press-Tending Robots
January 1, 2014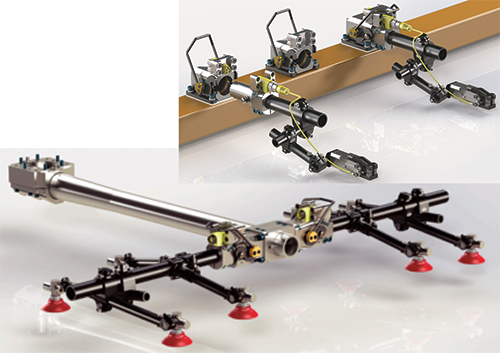 Responding to industry needs for faster and more efficient automated pressroom stamping lines, De-Sta-Co, Auburn Hills, MI, introduces the Accelerate collection of lightweight end-of-arm automation tooling. The end effectors reportedly are as much as 50 percent lighter than their predecessors, translating into production-line speed gains of 25 to 30 percent. Also, the lightweight end effectors improve ergonomics, resulting in higher worker-safety ratings.
Accelerate tooling is of high-strength aircraft-grade aluminum, allowing minimum wall thickness and overall weight without sacrificing strength and allowing stampers to maximize load-carrying capacity. This approach also eliminates the need to use more expensive, longer-lead-time materials such as carbon fiber.
Accelerate components also have trimmer, more elegant shapes than their predecessors. Greater flexibility provided by CNC machines, tooling and fixtures let De-Sta-Co contour the components to eliminate unnecessary bulkiness and weight. Further weight savings come from specifying thin-wall extruded tube instead of heavier solid bars or thicker-wall tubing.
De-Sta-Co: 888/337-8226; www.destaco.com
See also: Destaco
Technologies: Pressroom Automation