Record FABTECH a Technology Oasis
January 16, 2020
FABTECH 2019, held November 11-14 in Chicago, IL, closed with record attendance, marking a 7-percent increase over the 2017 event, the previous FABTECH held in Chicago. More than 48,000 attendees from 95 countries and 1700 exhibitors participated in FABTECH 2019, getting up close on new metal stamping and fabricating equipment, software and services.
MetalForming covered some FABTECH 2019 offerings, including servomechanical presses and fabrication and welding equipment in the December and January issues. We present more of the latest and greatest here. And, look for more in coming issues of MetalForming, in MetalForming and Fabricating Product News enewsletters, and online.
FABTECH 2020 is set for November 18-20 in Las Vegas, NV. Learn more at www.fabtechexpo.com.
New PLC Controls Promise Quicker Feed-Line Install, Setup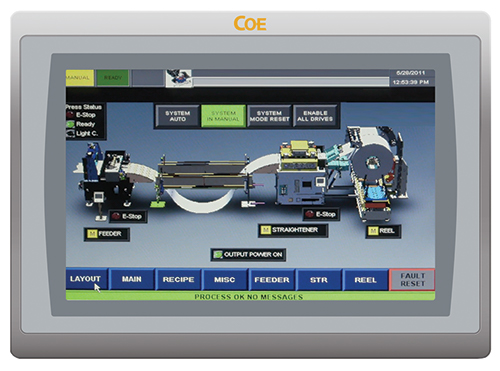 Coe Press Equipment debuted its next-generation PLC controls, available with any Coe coil processing line, that offer multiple advanced features to significantly reduce the time required to commission new feeding lines, according to company officials. New loop and press simulation capabilities enable Coe to test, debug and perform a complete startup prior to shipping, thus reportedly decreasing setup time on a metal former's plant floor by 50 percent or more. A new user-friendly human-machine interface (HMI) logically guides operators through the setup process, and Work Roll Advisor and Feed Roll Advisor software now are embedded into the controls―all contributing to eased setup and changeover.
New features include Loop Simulation, which emulates material to see how the straightener reacts to changes from the feed, and Press Simulation, which simulates press operation with strokes/min. changes, and parameters related to feed angles, pilot, start feed and more. Other features: On the Fly, which automatically changes feed speed to adapt to press speed, Direct Speed Enable, where the straightener automatically hits a target speed at the first press stroke, and Work Roll Simulation, a visual guide to help operators see what's happening inside of the straightener. Another, Smart Speed, automatically adjusts to optimal line speed based on press speed and feed window.
The completely redesigned HMI and 10-in. touchscreen enable simplified entering of machine setup information and rapid system troubleshooting. Other features of the new PLC controls include 100-job memory storage and password-protected job editing and parameter setting to secure stored recipes.
Part Sorting of Laser-Processed Parts
Mazak Optonics Corp. highlighted its latest automation advancement: a part sorting solution for laser-processed parts. From pallet changing to sorting finished parts, the SortFlex system improves material flow through the fabrication production line, resulting in increased productivity, according to company officials. Available for 3015 and 4020 laser-machine formats, it has a modular design that allows for expanding with the growth of a user's operations, and is flexible enough to allow for customized unloading positions. Finished parts are loaded on pallets, with stacking by order or by part type. This system also offers numerous functions and enhancements to expand the range of applications, and can include integration of unloading conveyors, over/under carts, mini unload tower, labelers, etc.