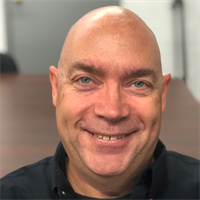 Todd Wenzel
New Controls
November 1, 2012
While significant growth—on the order of 15 to 45 percent per year since 2009—at contract manufacturer D & H industries, Oconomowoc, WI, has certainly been welcomed news, such rapid expansion has created renewed focus on managing capacity and maintaining a high rate of on-time shipments. That's been a tall order, as the firm has taken on more than 300 new part numbers and added 60,000 sq. ft. of new manufacturing space.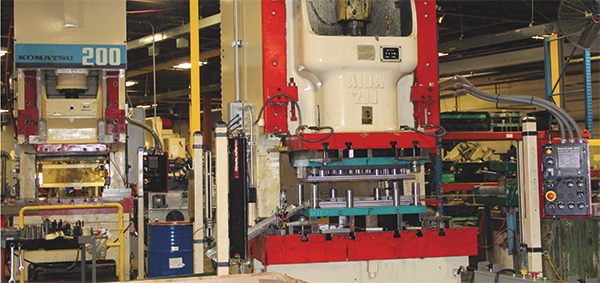 New controls at D & H Industries had to be configured to meet the needs of any manufacturer's presses, including these two 200-ton gap presses. "Now, when operators walk up to a press they see a similar screen and function layout," says D & H manufacturing engineering manager Jim Meyers, "which makes it easier to train operators to use multiple press lines."
For manufacturing engineering manager Jim Meyers, handling the influx of new customers and parts has meant managing the introduction of 14 additional press lines. At the same time, he also had to examine the plant's existing pressroom equipment to identify and mitigate risk factors that could threaten to shut down key stamping assets.
Aging Press Controls and Unplanned Downtime
Metal stampings are produced on 33 presses—45 to 2000 tons—at D & H, from a variety of materials including cold-rolled and stainless steel, draw-quality steel, and nonferrous alloys such as brass and aluminum. Customers abound throughout several industries including agriculture, commercial seating, construction and electronics. And, the firm is a leading supplier of magazines for domestic law-enforcement and military service.
When Meyers sought to uncover any technology-based risks to maintaining reliable, dependable service to the firm's growing customer base, his investigation led him directly to the pressroom's older press controls. To the point: Many of the controls were no longer being supported by the original manufacturers.
"Our maintenance staff had been doing a great job keeping what we had running," Meyers says, "but we were having a difficult time obtaining replacement electrical parts for our older machine controls—whether shipped by the press builders or provided as aftermarket controls. The problem persisted on controls purchased as recently as the 1990s as retrofits. And for some controls, there was absolutely no support or parts available at all. The risks of unplanned downtime, should one of these unsupported controls fail, were unacceptable. We must meet delivery commitments."
Meyers assembled a team to attack the problem by identifying the presses running with obsolete controls, and developing a plan to upgrade the controls on a need basis. They immediately deemed five presses as "extremely critical to on-time delivery of product," and these were slated for immediate upgrades. The team then developed an upgrade schedule for the remaining presses with unsupported controls.
Even controls equipped with fewer die-protection inputs include valuable features. For example, the circular press-stroke chart shown here illustrates, in blue, where in the stroke the sensor needs to transition; the black shading shows in real time the actual points in the last stroke where the sensor switched on and off. This type of interface makes it easy for operators to see what is happening, and to properly program the unit.
"Engineering, production and maintenance created a list of the control specifications we wanted, and then began investigating vendors to see what best met our needs," says Meyers. Among the needs to be addressed: a new die-sensor program being implemented, which topped the wish list for the new controls. "The new controls needed to be ready to support our in-die sensing program, and provide technology that would help us maintain low overhead, consistent part quality and on-time delivery," stresses Meyers.
Support for Technology in the Tooling
D & H wanted every new control to have die-sensing inputs, programmable-limit-switch (PLS) outputs and tonnage monitoring available. Many of its old press controls did not have any integrated process controls at all, which limited the firm's ability to implement electronics to prevent crashes, reduce setup times and improve part quality. Additionally, Meyers and his team sought controls that could be easily understood on the shop floor, and that were scalable as needs change.
"We run a variety of work with secondary and progressive-tooling operations," Meyers notes. "Some hand-fed dies require only a few sensors, while other progressive dies running complex parts require much greater capacity, 16 or more die- protection channels. One size would not fit all."
Having sensors, PLS and tonnage settings stored as part of a job recipe was a must for the new controls. For its busiest straightside lines, D & H also wanted the ability to add setup-reduction features, such as automatic shut height, as part of job recipes. Meyers estimated that the ability to store programs and recall previously prepared setups would shave 10 min. per setup.
Meyers also knew that new controls meant the opportunity to take advantage of self-diagnostic capabilities. "Greatly improved diagnostics were considered a 'must-have' feature for any new control coming into the plant," he says. With the plant's older controls, any press downtime events would require the attention of an experienced electrician. And with the addition of 14 new presses, possible production delays caused by prolonged troubleshooting missions were not acceptable.
Immediate, Noticeable Results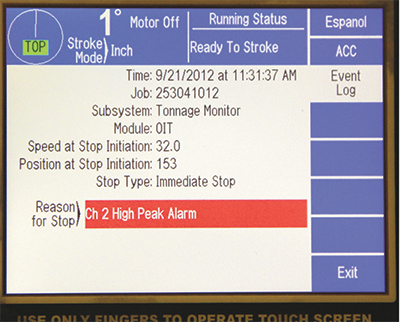 Control diagnostics provide detailed information describing every press stoppage. Shown here is a stoppage triggered by the tonnage monitor. Note that the operator also can see the press stroke rate when the press stopped, and exactly when the fault occurred.
D & H now has purchased and installed new controls (from Link Systems, Nashville, TN) on the five critical presses it had identified early in the process. Smaller presses received controls with less process-control capabilities, and the straightsides received controls with more capacity for die protection and automation, such as automatic shut height. Being able to select the level of process control helped match capacity to need, and contain costs.
Also important to Meyers was the long-term support offered by Link. "Link sales manager Lance Curtis assured me that the company maintains circuit-board production inhouse," Meyers shares. "They can produce boards 'one-off' if necessary, even for models that ceased production long ago. I understand that Link still supports products introduced into the field in the 1970s."
"All of the new controls at D & H offer strong diagnostic features," says Meyers, "with fault histories. And, the user interface maintains a similar structure in the higher-capacity and the simpler versions, so operators can switch from simple to complex press lines without confusion," he adds.
The results were immediate, and noticeable. "Not only did the new controls eliminate the risk of unplanned downtime due to old, unsupported controls failing, but we also gained technology that added to our capabilities," shares Meyers. "The investment became part of our improvement plans, not just a means of cost avoidance."
With the ability to use sensors on more tools, D & H has been able to run more jobs unattended without risk of schedule-shattering die crashes. Tonnage monitors have helped reduce setup times, and the firm is relying on the monitors to stop presses when a tonnage change indicates a variation in the process, such as dulling of the tools and changes in material thickness. Also, the new controls are managing PLSs to control feed timing, air blowoffs and other events.