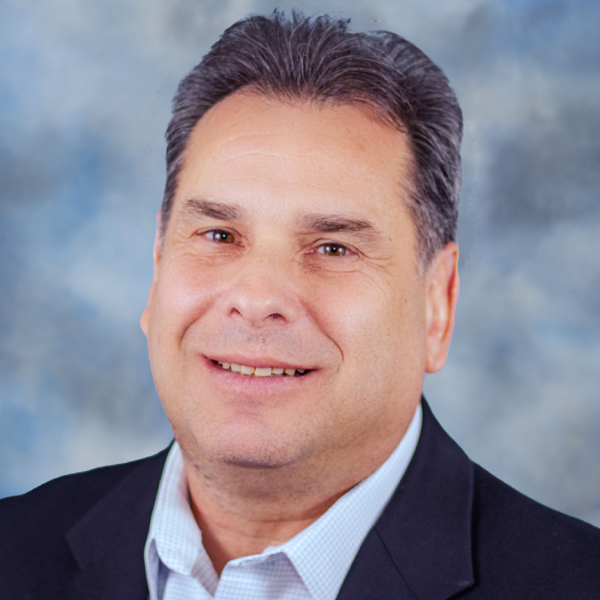 Brad Kuvin
Straightening for Fineblanking—Not for the Faint of Heart
May 1, 2017
For nearly 60 years, automotive brake-component manufacturer Util Group, headquartered in Italy, has been supplying many of the world's OEMs of cars, trucks and other vehicles with fineblanked and stamped backing plates, brake shoes, piston clips, springs and other parts. Most recently, it launched production of components for the 2017 Volvo S90, Jeep Cherokee, Hyundai Veloster and Tucson, and Mazda CX-5.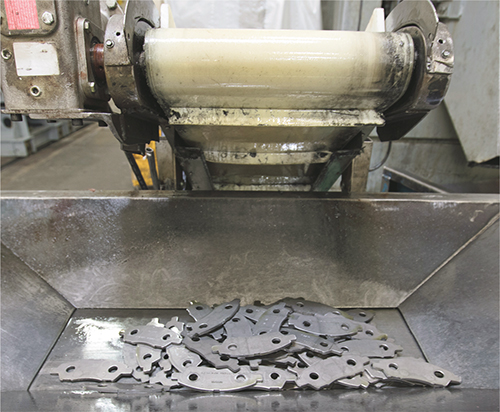 Util fineblanks brake backing plates with dimensional accuracy to within ±0.05 mm, and edge perpendicularity to top and bottom faces to within ±0.0125 mm.

As explained by Frank Taraschi, president and general manager—Americas, the firm operates four facilities employing 1400 people around the world, and is an early adopter of fineblanking technology—a process widely used for forming brake backing plates, which require tight tolerances on flatness and dimensions. Targeting the market for fineblanking of high-strength tight-tolerance parts, Util pioneered the use of the process in 1968 to produce brake backing plates and shoes.

Globally, Util employs 25 dedicated hydraulic-press fineblanking lines, with press capacity from 600 to 880 tons, and consumes some 90,000 tons of steel/year. Its Canadian facility (in Concord, Ontario), with seven of these lines, is the focus of this article. That facility consumes approximately 45,000 metric-tons of steel/yr.

In with the New

Late in 2016, Util Canada installed a new state-of-the-art fineblanking line, which plant executives expect to help open doors to new work and new customers. Of the facility's 20,000 sq.-m. of manufacturing space, 9200 sq.-m. is dedicated to fineblanking. The plant also includes aftermarket production, inhouse tooling engineering and manufacturing, plus warehousing and distribution.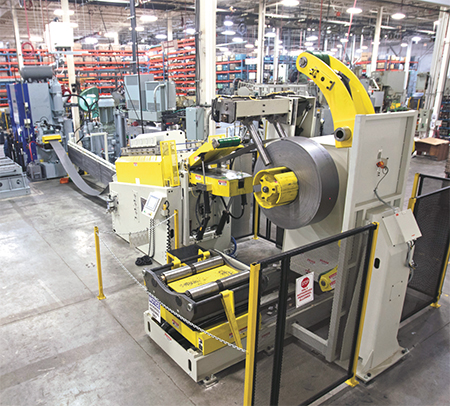 The Canadian plant's latest fineblanking line features a hydraulic press from Mori Iron Works Co., fed by a uniquely specified feed line from Coe Press Equipment. The feed line features a Coe Fineblanking Edition HD straightener, coil reel with HD holddown arm, and alligator-style peeler-threader.

"Our Canadian operation serves as the center of technological excellence for the Americas," says Taraschi, "and mentors Util Mexico in best practices." The facility performs progressive conventional and fineblank stamping, welding, swaging, progressive and multislide hardware stamping, and noise-dampening shim stamping.

Asked to explain the company's continued development of fineblanking capabilities, technical director Alessandro Luppis says: "Our customers continue to specify tighter and tighter tolerances, because these critical dimensions (flatness and external dimensions) interfere with the calipers during braking. We're typically fineblanking 5- to 8-mm-thick high-strength steels, and in some cases material as thick as 10 to 12 mm, so we need robust processing equipment. Our newest line can keep up with customer demand for tighter dimensional and flatness tolerances, even as workpiece materials get stronger and thicker, allowing us to dramatically improve our competitiveness on new quotes."