Lightweight Solutions for Electric Vehicles
June 1, 2016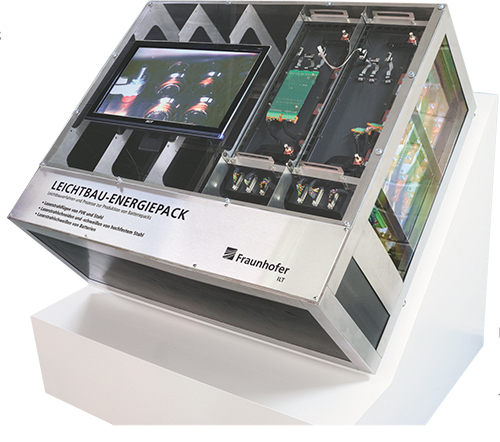 Outokumpu material experts are working on future-oriented stainless-steel solutions in cooperation with scientists from Fraunhofer Institute for Laser Technology ILT, in Germany. The latest innovation: a new battery pack specifically designed for electric vehicles, which combines several lightweight engineering technologies as well as new types of cooling and structural strategies. Among them is use of austenitic, ultra-high-strength stainless steel (Forta H1000 from Outokumpu).
Says Stefan Lindner, senior technical manager for Outokumpu's automotive segment: "A high capacity for energy absorption and increased stiffness with thinner wall thicknesses are crucial characteristics for the development of future lightweight designs in automotive engineering. The Forta H series fulfills these requirements."
Because the batteries for electric vehicles typically are installed in the underfloor area, their casings have very high requirements in terms of hardness and crash safety. At the same time, the structures must be as lightweight and compact as possible, which is where conventional materials such as aluminum and carbon steels reach their limits.
"With Forta H1000, we were able to engineer a safer casing despite its leaner structure, and thus save a considerable amount of weight," comments Dipl.-Ing. Paul Heinen, of the Fraunhofer Institute for Laser Technology ILT. "Using 1.2-mm-thick sheet instead of 1.5-mm allows a weight reduction of about 20 percent."
Outokumpu: www.outokumpu.com
See also: Outokumpu Stainless
Technologies: Materials