5S, OEE Help Clear Floor Space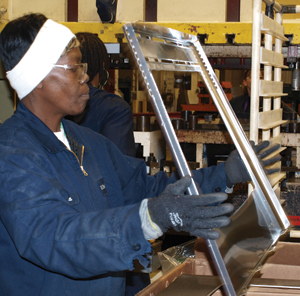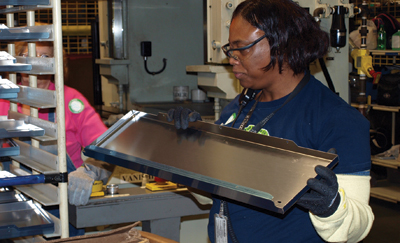 Inspectors take a close look at every stainless-steel part exiting the plant's two new stamping presses, on the lookout for burrs, blemishes and scratches. Top: A Type 201 stainless-steel door panel; Bottom: a Type 5430 drawer panel. Since bringing the work inhouse, scrap costs have been cut in half, to a mere 3 cents/unit manufactured.
An 80-by-40-ft. area once used to house inventory now is the home of the firm's new two-press stainless-steel press shop. Byrne credits the plant's effective application of the Electrolux Manufacturing System (EMS) with its ability to slash the amount of inventory it keeps on hand, thanks to dramatic improvement in overall equipment effectiveness (OEE).
"We run a very tight ship here," he says, noting how hard-pressed the facility is for space. "If you're looking for evidence that paying attention to OEE, 5S and minimizing inventory pays off, this is it. We gained the floorspace we needed to bring in two new presses, complete with walks and aisle space for lift trucks, to realize Brenda's vision of bringing the stainless-steel work inhouse, saving the company a lot of money."
Sweden-based AB Electrolux launched its global manufacturing system (EMS) in 2005 to improve safety, quality, cost and delivery. Nearly all of its plants have adopted the system, which addresses three fundamental strategies:
Stability—defined as standardizing methodologies throughout the company to eliminate waste.

Process improvement—continuously improving working methods to upgrade quality, cost and delivery performance.

Culture change—focusing on building leadership skills and teamwork, and investing in training for every member of the company's team.
Closer Look at
Press Technology
Electrolux's two new Stamtec presses feature fabricated box-frame construction and four full-length steel tie rods prestressed to 150 percent of press capacity. Eight full-length 90-deg. gibs, with nickel-bronze wear plates, guide the slide. Each press also boasts a high-torque low-inertia clutch and separately mounted air-released spring-actuated brake, automatically synchronized. Dual-valve automatic hydraulic-overload protection systems protect each side of each press individually from overloads. Also, each press includes a set of four die safety blocks interlocked to the press controls to prevent inadvertent operation while the safety blocks are in use.
Press specifications: 14-in. stroke; 20- to 40-strokes/min.; 144- by 60-in. bolster and slide area; parallelism (slide to bolster) of 0.001 in./ft. or less; deflection of 0.0015 in./ft. or less right to left and front to back, with two-thirds of the bed area symmetrically loaded.
Omnilink 5000 press and automation controls on the presses, from Link Systems, provide the plant the opportunity to eventually evolve from manually fed operations to automatically fed. The units offer clutch-brake control, auxiliary-systems control, die protection and process monitoring, signature and tonnage monitoring (which Electrolux hopes to eventually use to gauge burr height and trigger die maintenance), and automated setup of counterbalance, die cushions and shut height.
Now Electrolux has begun to spread the love, by conducting EMS workshops for its suppliers. A big part of implementing EMS and gauging its success is the constant measuring of key performance indicators (KPIs)—at each plant and company-wide. The EMS reaches throughout each factory, with KPIs established at varying levels specifically for use in either a production office or out on the shop floor. Typical KPIs include overall equipment effectiveness (OEE) and job-change-over time including die-change times.
At the Springfield facility, improving OEE and changeover efficiency delivers numerous benefits, the primary benefit being expanded press capacity. Its average press-line OEE is 70 to 75 percent, an improvement of 10 to 15 percent since implementing the EMS. And, die-change times on some presses have been reduced by as much as 40 percent.
Back to the Stainless-Steel Press Shop
Starring at the new Electrolux stainless-steel press shop are two new Stamtec presses—600- and 400-ton capacity, 144 by 60-in bed. They run the stainless-steel parts five days/week, two shifts/day. A team of five works at each press—four press operators who manually transfer blanks through the die sets, at 300 strokes/hr., and a material handler/inspector.
"We now have press capacity that we didn't have before," says Frauendienst. "So, we'll be looking to add feed lines to the presses within the next year or so to increase flexibility." Also possible down the road, as stainless-steel appliances continue to gain traction in the marketplace and volumes pick up: transfer automation. In just the last few years, the company's orders for stainless-steel appliances have nearly tripled.
"We may soon have to look at adding transfer systems to these two presses," says Frauendienst. "There's plenty of space on the presses for mounting a transfer system, and the controls (OmniLink 5000 models from Link Systems) make the presses automation-ready."
Results from the overall project have been impressive. First, the plant gained control of the process. Says Sprouse: "Schedule changes are easily accommodated. Also, scrap and rework rates are down considerably—scrap is a mere 3 cents/unit manufactured, half what it was previously, thanks to the dedication of our crews to keep the dies clean. Reject rate from the press is less than one percent, and through the entire system (including deburring, coating etc.) scrap rate is less than two percent."
Less Deburring Contributes to Lightning-Quick ROI
Another benefit realized from gaining process control inhouse: Only about half of the parts actually require deburring, whereas all stampings were undergoing the secondary process previously. What no longer needs deburring? Those stampings that undergo a special Electrolux-developed anti-fingerprint stainless-steel coating process, thick enough to cover any burrs typically produced.
"We used to pay for deburring of every part stamped by our supplier," says Carr, noting that acceptable burrs off the press are 0.004 in. or smaller. Larger burrs create problems for the company's subcontracted deburring house. "Not only are we saving time and money thanks to less deburring, but we eliminate one more opportunity to have the surface finish of the parts marred," Carr adds.

When accounting for all of the benefits, the stainless-steel stamping project allowed Carr to realize a substantial improvement in PPV and overcome a company-wide freeze on capital spending. "Our case was simply too good," she says. Using a modest run rate of 50 units/hr. (compared to the actual run rate of 300/hr.), Carr and the plant's production team were able to show a 9-month return on investment for the project.
"The presses are performing, the dies are performing, and the people are performing," says Frauendienst.
MF
Industry-Related Terms:
Blank
,
Burr
,
Case
,
Die
,
Form
,
Gauge
,
Lines
,
Point
,
Burr Height
,
Run
,
Scrap
,
Stainless Steel
,
Stroke
,
Surface
,
Transfer
,
Bed
View Glossary of Metalforming Terms
See also: Link Systems, Stamtec, Inc.
Technologies: Materials, Stamping Presses