HyCal's New Continuous Anneal Line a Boon to AHSS, UHSS Production
March 1, 2016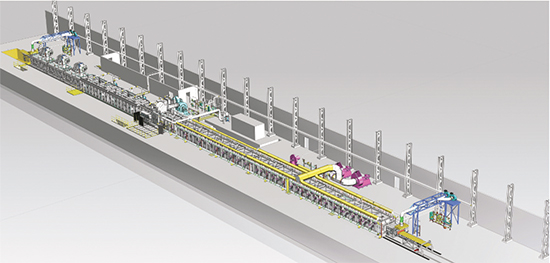 HyCal Corp., Gibraltar, MI, a division of Ferragon Corp., has begun installing a first-of-its-kind continuous anneal line. The line, developed and built by Austria-based Ebner (with U.S. offices in Wadsworth, OH), will use an optimized blend of hydrogen, rather than water, for strip cooling to produce ultra- and advanced-high-strength (UHSS and AHSS) steel grades. It will be North America's first 100-percent hydrogen continuous annealing line for UHSS and AHSS, and will produce dual-phase, TRIP, martensitic and other grades from 580- to 1700-MPa yield strength.
The process of hydrogen annealing provides significantly improved prime yield, superior shape and uniform properties across the strip that have proven difficult to achieve consistently with typical water-quench lines. Key to the performance of the new line, expected to begin running in late 2016, is use of an optimized blend of hydrogen—rather than water—for cooling. Water quenching causes steam pockets and off-flat errors (called "potato chipping") that can reduce yields and require post-anneal shape correction.
HyCal's line reportedly will provide 97-percent prime yield. Steel coming off of the line will be dead flat and will not require post-anneal processing. The timeline: foundations complete, March 2016; equipment onsite, May 2016; installation, October 2016; and initial coil trials, December 2016. Coil width will cover the range from 24 to 48 in., in steel thickness from 0.02 to 0.09 in. Processing capacity: 120,000 tons/yr.
www.hycalcorp.com
See also: Ferrous Metal Processing Co, Ebner Furnaces Inc
Technologies: Materials