Fundamentals of Resistance Welding of Advanced Steels
July 1, 2015
In general, if any type of advanced high-strength steel (AHSS)—dual-phase (DP), transformation-induced plasticity (TRIP), complex-phase (CP) or martensitic (MS)—is used for the first time, the fabricator should take the resistance-spot-welding (RSW) schedules applied to mild steel and: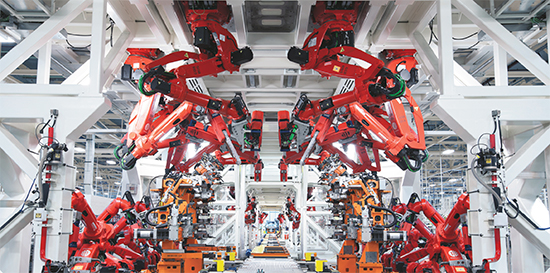 This robotic resistance-welding line stars at Chrysler's Sterling Heights, MI, facility, assembling the 2015 Chrysler 200 body-in-white. The high-strength-steel-intensive structure comprises 30 percent advanced high-strength steels (550-780 MPa tensile strength). It's in the roof rail, B-pillar and rocker panels. Another 10 percent is either ultra-high-strength (above 780 MPa tensile strength) or hot-stamped steel (1000 MPa and above). Hot-stamped parts are in the A- and B-pillars, the roof header and the door ring.

• Increase the electrode force by about 20 percent or more, depending on the steel's yield strength (YS).

• Increase weld time as appropriate (reduced welding current).

If these changes prove insufficient, try these additional changes:

• Use upslope and downslope as needed.

• Use a multi-pulse welding schedule (a few current pulses with a short cool time in between).

• Use a temper pulse after the weld pulse.

• Increase tip diameter.
Fig. 1—Current range for varying electrode force for RSW of AHSS. Electrode cap Type B 16/6, 6-mm-dia. tip, single pulse, 340-msec weld time, 250-msec hold time.
• Increase the minimum weld size.
When resistance welded, AHSS require less current than conventional mild or high-strength low-alloy (HSLA) steels because AHSS grades have higher electrical resistivity due to alloying elements. Therefore, current levels for AHSS are not increased and may even need to be reduced depending on material composition.
Tighter Process Windows
AHSS often have tighter weld windows (welding parameters that give acceptable welds) when compared to mild steels. The process window for RSW of AHSS is influenced by several parameters, including electrode force and welding time. Investigation by a steel producer has found that the acceptable range of welding current increases by an average of 500 A for every additional 500 N of electrode force (Fig. 1). The current range also increases by an average of 250 A for each additional 40 msec of welding time (Fig. 2). Extra amounts of electrode force and welding time lead to increased current range, allowing for a wider process window.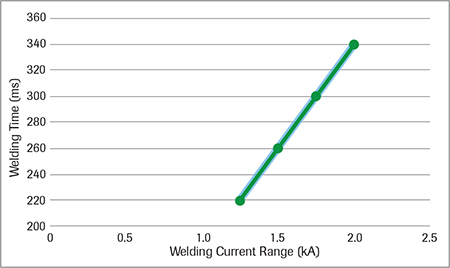 Fig. 2—Current range for varying weld time for RSW of AHSS. Electrode cap Type B 16/6, 6-mm-dia. tip, single pulse, 3.5-kN electrode force, 250-msec hold time.


An extensive weld study of three 1.6-mm-thick DP coated steels (DP 340/590, 420/780 and 550/980) showed similar welding behavior for all three steels. To characterize RSW behavior, useful current ranges and static-weld tensile tests were performed. The useful current range is the difference between the welding current required to produce a minimum button size and the current that causes expulsion of weld metal.

The weld-current range: 2.2 kA for DP 340/590 and DP 420/780, and 2.5 kA for DP 550/980. Average reported weld hardness: 380 HV for DP 340/590 and 415 HV for the other two grades.