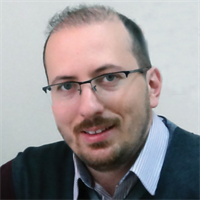 Eren Billur
Correcting Common Misconceptions Regarding Steel Grades
January 25, 2022
Several misconceptions regarding the naming and properties of sheet steels exist within the metal forming community. Here we'll discuss several of them, because while most people around the world attempt to use equivalency tables to identify and compare similar grades, at the end of the day a die made in Korea with commercial-quality steel may not work properly in the United Kingdom with what appears to be the same steel grade. Let's discuss why this can happen.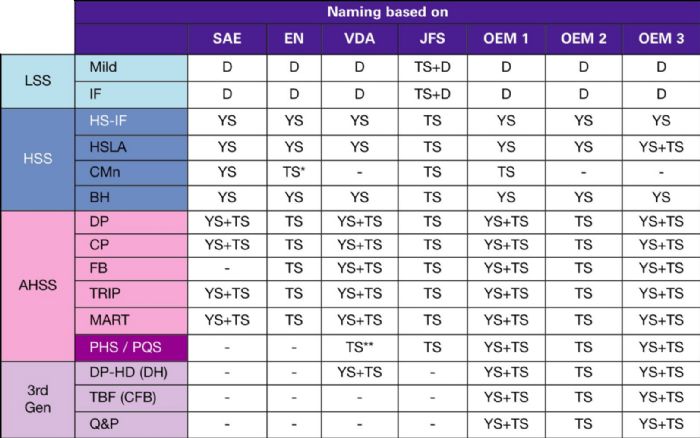 Stampers readily form and deep draw lower-strength steels (low-carbon mild steels as well as interstitial-free (IF) grades). These steels often are named based on their drawability, a combination of r and n values and total elongation. Recently, these steels have taken on the names CR1 to CR6 by SAE, VDA and several OEMs. The higher the number the better the formability. In Europe, examples of these grades DC01 to DC07 and FeP1 to FeP6, and in Japan their names are based on their minimum tensile strength (260 or 270 MPa) and their drawability—referred to with a letter, JSC270C being the least formable and JSC260G being the most (Table 1).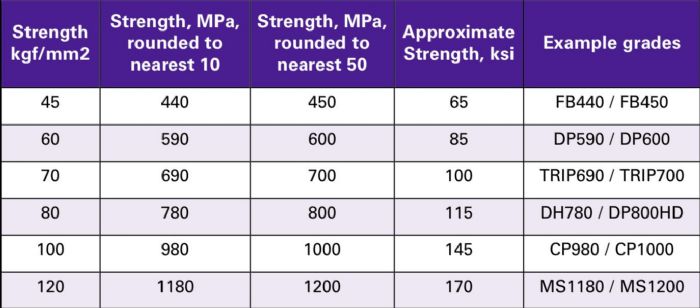 Conventional high-strength steels (HSS) include high-strength IF grades (HS-IF), bake-hardenable (BH), solid solution hardened (CMn or rephosphorized) and high-strength low-alloy (HSLA) steels. In Europe and North America, most HSS (except for CMn) are named after yield strength, while in Japan steels are named based on tensile strength. This may be confusing, as JSC340H is similar to HC180B or SAE 180B (Table 3). All of these steels could be generically named BH180.
Advanced high-strength steels (AHSS) in some cases are referred to as multiphase steels; however, I do not endorse this definition as it excludes single-phase martensitic grades. The most recent definition of AHSS, agreed to by WorldAutoSteel members: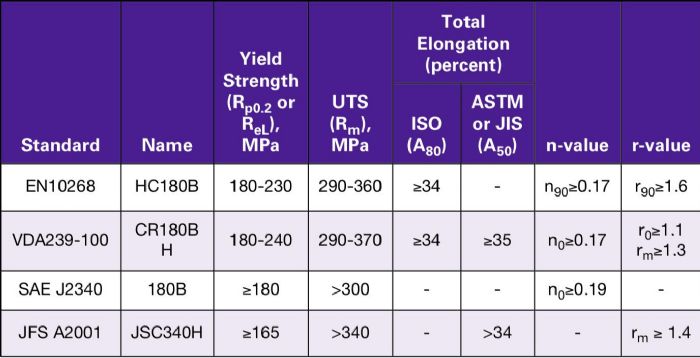 Martensitic and multiphase steels having a minimum specified tensile strength of at least 440 MPa.
Note that at one time the definition specified a minimum tensile strength of 590 MPa, but recently was revised to include DP440 and FB440 steels.
Among the grades defined as 1st Gen AHSS: dual-phase (DP), complex-phase (CP), ferritic-bainitic (FB), transformation-induced-plasticity (TRIP), martensitic (Mart) and press-quenched/hardened steels (PHS/PQS).