Heyco Metals Launches New Website
January 22, 2021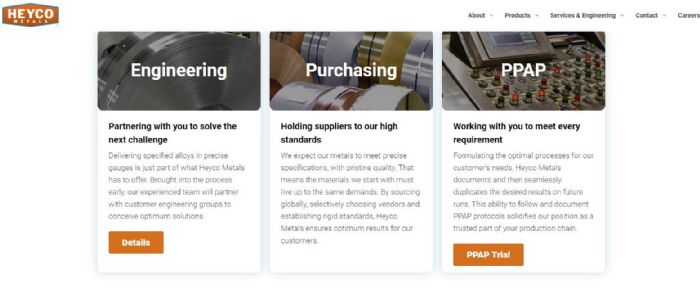 Heyco Metals, a manufacturer of light- and medium-gauge copper, copper-alloy and stainless-steel coil and strip, has launched a new website, featuring a contemporary design and new user-friendly features to enhance the online experience for customers, suppliers and partners. The new website presents a comprehensive picture of Heyco's capabilities, including its expertise at partnering with engineers early in the manufacturing process. The site features a series of easily accessible and downloadable specification tables for the company's line of available alloys, as thin as 0.0012 in.
With PPAP capabilities, Heyco Metals routinely follows and documents strict protocols to fit seamlessly into the production chain for manufacturers in the medical, automotive, aerospace and other industries. The new website enables users to initiate a PPAP trial-order discussion right from the site.
Heyco Metals is an operating subsidiary of Hummock Industries.
See also: Heyco Metals, Inc.
Technologies: Materials