Software Release Offers Solutions for Trim-Line Development, Hot Forming and More
October 1, 2014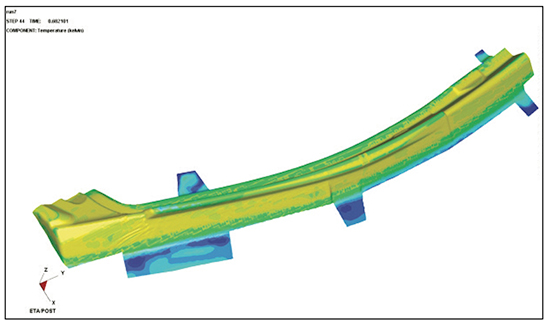 Engineering Technology Associates
Booth B1506
Engineering Technology Associates, Inc. (ETA) announces the release of Dynaform Version 5.9.2, simulation software that analyzes the entire die system and allows organizations to bypass soft tooling, reducing tryout time, lowering costs and improving cycle times and productivity. The latest release offers many new and improved features, as well as brand new add-ons for trim-line development, rotary tube-bending design and analysis, hot forming and die structure cooling.
The trim-line development add-on offers multiple-stage simulation capabilities, using an iterative approach for simulating trimming during metal stamping to ensure that final trim-line result matches the target line.
The rotary tube-bending add-on allows users to calculate the tube (product) centerline, generate the bending process automatically, edit, review and analyze the bending process through simulation. Users also can preview tool movement through the bending process via the simulation.
www.eta.com
See also: ETA (Engineering Technology Associates, Inc.)
Technologies: Management