"The PMA Benchmarking Report provided our management team then, and still does today, opportunities to improve our efficiencies, quality and other metrics," Adler says. The report allows managers to assess their company's performance and compare its competitive strength in the industry. It features in-depth analysis of key management, productivity and quality performance measures, with information organized by best in class, industry average and profitability.
One Key Measure: Sales per Employee
Self-Sufficient from the Start
Ten siblings—four brothers and six sisters—is enough to make anyone self-sufficient and competitive, and Bill Adler is no exception. He paid his own to attend a private Catholic high school in Cleveland, OH, and Miami University (MU) in Oxford, OH, earning in 1979 a Bachelor of Science Degree in Marketing. The second-oldest child in the family, Adler recalls that "in our family, we had to be self-sufficient. We learned the value of hard work as we all made our own in life."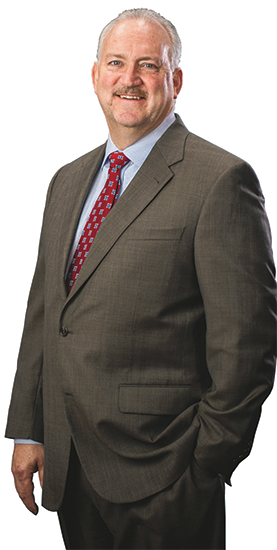 Adler's initiation into the world of metals and manufacturing came the summer following his sophomore year at MU, when he landed a job at Cleveland's Jones & Laughlin Steel Co. When he returned to Miami he had an itch to learn more about manufacturing, and scratched the itch by enrolling in an industrial-education course.
"I really enjoyed that class," Adler recalls, "particularly the hands-on fabricating-machinery experience."
As a newly minted college graduate, in 1979 Adler stayed near to his roots and went to work as an inside sales representative for a Cleveland-area aluminum service center located, coincidentally, on the very property to where he relocated Stripmatic in 2012. Cutting his teeth processing RFQs and estimating jobs for customers, his goal all along was to learn the product and the industry, then move into sales.
"I enjoy marketing, but I love sales," Adler shares.
Before Adler found his into technical sales, he ran the metalworking shop at another Cleveland manufacturer, Mazzella Wire Rope & Sling Co. (now Mazzella Lifting Technologies). "I ran the shop for 21⁄2 years," he says, "als with the understanding that I would eventually move into sales." And in 1984 he did just that. "I sold wire-rope products for Mazzella for 6 years," he adds. "In fact, one of my customers was the steel mill I worked for some 10 years earlier."
In 1990 Adler got the entrepreneurial bug and went went looking to take the next step in his career: to own and operate his own company. His 2-yr. search ended in 1992 when he acquired Stripmatic, a nearly 50-yr.-old metalforming company in Cleveland that manufactured washers, wrapped tubes and a variety of stamped parts. "We had 300 customers, with annual sales of $1 million," he recalls.
"During those formative years at Mazzella, also a small family-owned manufacturing company, I learned a lot of great managing strategies that I have applied at Stripmatic, and continue to apply today," Adler says. "My goal, along with Liz (his wife and the company's vice president and treasurer), has als been to build a family atmosphere from the front office to the plant floor. Day to day, we find that this fosters an attitude of collaboration at Stripmatic. We're building relationships amongst our employees that form a foundation for productive problem solving without finger-pointing. This allows us to overcome the challenges presented by our customers on a daily basis."
"Early on, we gained an appreciation for the importance of measuring and improving one of the numerous measurables PMA tracks with the benchmarking report—sales per employee," Adler says. "We examined where our costs were and pledged to focus on and expand our most profitable processes. While the company for a long time manufactured washers as well as wrapped tubes, we made the strategic move to shift all of our resources to the much-more profitable business of manufacturing wrapped tubes, and that's what jump-started the company."
In 2000 the firm kicked up its efforts to further grow sales per employee, "to try to stem the offshoring tide to Asia being experienced by so many metalformers, including Stripmatic," Adler says. The results speak for themselves: back in 1992, sales per employee were $97,000; the figure stands at $260,000. The catalysts for the productivity push: Investing in metalforming electronics, heeding the call of sensor specialist George Keremedjiev, long-time contributor to PMA seminars and MetalForming magazine.
"Prior to contracting with George, we were running much too slowly," admits Adler. "We had to improve our productivity and George reviewed our pressroom activities, helped me get comfortable with sensor technology and made me understand the productivity gains we could realize using sensors. We established an inhouse sensor lab, trained a technician and installed sensors on all of our dies."
As a result of the sensor program, average press speed doubled from 35 to 40 strokes/min. to 60 or more strokes/min.; some presses run at 120 strokes/min., while die crashes went from an average of three or four per month to two or three per year.
In addition to the PMA Benchmarking Report, Adler explains the value gained from the knowledge shared by other PMA executives when networking at industry events, seminars and tradeshows. He mentions pressroom safety as one area where the knowledge gained from networking has made a difference in day-to-day operations at Stripmatic.
"In the mid-'90s we decided we had to address press-safety concerns," he says, "and so with every opportunity to meet with our fellow PMA members we'd discuss the various techniques and products available for protecting our operators," he recalls. "That has led us to continually invest in new barrier guards, light curtains and other safety products out on the floor."
Executive Networking Group an Informal Board
Networking and exchanging ideas with peers amongst PMA's company executives hits full stride when members enlist and participate in the association's handful of networking groups. Count Adler in. He became a charter member in a PMA executive-networking group 15 years ago, and says it's been one of the most valuable benefits of membership. The value: sharing ideas and learning along with 20 or so other metalforming-company executive from across the country, and from a variety of industries including sheetmetal fabricators, short-run stamping and automotive-parts manufacturing.
"The networking group serves almost like an informal board of directors," says Adler. "We use it as an early warning system to keep up with industry trends and gain advance notice of issues that might impact Stripmatic down the road. With that type of critical knowledge we can plan ahead and adjust accordingly to what might be coming down the road, rather than reacting frantically when issues hit unexpectedly."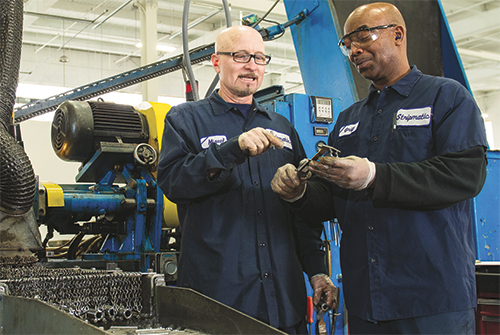 At one of several tube-finishing machines at Stripmatic, department supervisor Arvin Griffin (right) consults with operator Miguel Diaz.
What types of issues has Adler's early-warning system detected? Adler, noting that most of the companies in his networking group are significantly larger than Stripmatic, cites cost-reduction requirements as one example. "I've learned of cost-down notifications from my networking-group peers three months ahead of when I might have if we were not PMA members," he says. "That's given us plenty of time to 'soften the blow' and minimize the impact on our company.
"In another instance," Adler continues, "we caught wind from the group of a new OSHA crackdown on noise and mist levels ahead of an audit. I called in the Ohio Industrial Commission to work with us and preempt any OSHA action."
Adler also cites the guidance and suggestions received from his networking-group peers when Stripmatic underwent TS16949 registration proceedings. "A couple of the group's members led the pack with TS registration, and shared a lot of useful advice on best practices," Adler says. "That saved us considerable time and money during the process."
Innovation the Perfect Partner to Knowledge
Liz Adler (right) meets with Stripmatic CFO Brian Gorris and customer-service manager Karen Hecker. In 2012, Gorris was named CFO of the Year by Crain's Cleveland Business magazine. He also serves on PMA's audit and finance committees. Says Adler: "I find the PMA human-resources roundtable meetings and its online listserve to provide outstanding value."
Another benefit of PMA membership for Adler and Stripmatic, and in particular to belonging to a tight-knit networking group, has been the opportunity to tour the manufacturing facilities of other member companies. "Those tours als offer useful insights into how new innovative technologies are impacting the metalforming industry," Adler says. And innovation shines bright at Stripmatic, illuminating the path to future growth. Following the company's move last year to its new home on Cleveland's south side, Adler invested in a new 300-ton Aida servo-mechanical press, and in a 2-kW automated laser-welding cell from Lincoln Electric.
"Our business plan is focused on continued development of our wrapped-tube manufacturing process," says Adler. "The servo press and laser-welding cell will greatly expand our capabilities there."
Stripmatic's previous 200-ton press capacity limited tube-forming diameter to 2.75 in.; with the servo press the shop will be able to form tubes to 6-in. diameter. "We can run that press with a 10-in. stroke on one job, and then quickly switch to a 4-in. stroke," Adler says, describing the versatility that the innovative servo technology provides. Another benefit: "Press-stroke control is greatly refined," Adler says, "so we achieve tighter fitup tolerances at the seam, allowing us to laser-weld the tubes."
The firm's new, innovative laser-welding cell replaces plasma welding and yields a 500-percent decrease in processing time. It features a rotary table with 18 stations and includes automated feed of the formed tubes, a fiber-laser welding station and four camera inspection stations.
PMA's Role in Shaping the Industry's Future
Adler's thirst for innovation and knowledge has been quenched via numerous PMA functions—seminars, tradeshows, MetalForming and Fabricating Product News magazines and other products. During his time at the association's helm, he pledges to encourage more.
"The association can help members identify the technology innovations that will move us forward. And, its events provide opportunities to network with the best suppliers in the industry, who can educate and counsel us," he says. "We'll add programming on automation, linear servo motion, automated parts handling and inspection, laser cutting and welding, waterjet cutting, and robotics. PMA must take a leadership role in driving technology and innovation into our companies."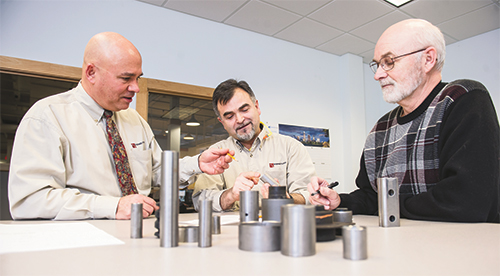 New-product development takes center stage as (left to right) sales manager Arnie Mayher, plant manager Tony Scrima and tool and die engineer Larry Vasicek meet. Vasicek heads up the firm's sensor lab, and regularly attends PMA tool and die seminars. Mayher belongs to PMA's sales and marketing committee and, along with Bill and Liz Adler and CFO Brian Gorris, regularly attends the PMA Automotive Parts Supplier Conference. Says Scrima: "By attending local PMA district meetings, I've developed a great network of suppliers to help keep our plant at the leading edge of technology."
PMA president Bill Gaskin concurs, and reflects on Adler's theme:
"During the last few years, the industry and PMA have recovered well from the recession. We're engaging members in new s, and will continue to do so. We've had the right leadership at the right time—patient and reflective chairs such as Gretchen Zierick and Bob Clay that led us out of the recession in 2010 and 2011 (respectively). And, 2012 chairman P.J. Thompson, who emphasized the need to train and prepare our industry's middle-management executives, spearheaded PMA's founding of the Middle Management Academy (MDA). The MDA held two well-attended training sessions in 2012 and will continue its work in 2013 and beyond, beginning with a training event scheduled for May 5-7, 2013, in Cleveland, OH.
"Now, with Bill's focus on knowledge and innovation," Gaskin concludes, "we'll look to further develop offerings to help member companies shape their futures and meet the needs of a growing manufacturing economy."
MF
Technologies: Management, Safety, Sensing/Electronics/IOT