New ERP Version Features AI-Driven Virtual Agent
June 25, 2019
Epicor's latest version of its global ERP system, Epicor ERP 10.2.400, harnesses artificial intelligence (AI), automation and analytic capabilities in an effort to drive efficiencies across all operational assets, and offers a platform for manufacturers as they embrace digital transformation, according to company officials.
Features include Epicor Virtual Agent (Eva), an enterprise-wide digital agent using AI to execute tasks and recommend, predict and adjust actions within set parameters. Eva appears on screen as a virtual assistant that users can access via text or voice. Along with cognitive skills such as text and voice, Eva transforms data into visual information. Users can access Eva, powered by natural language processing, from their mobile devices and the agent will deliver targeted information to help them make better, faster decisions, according to Epicor officials.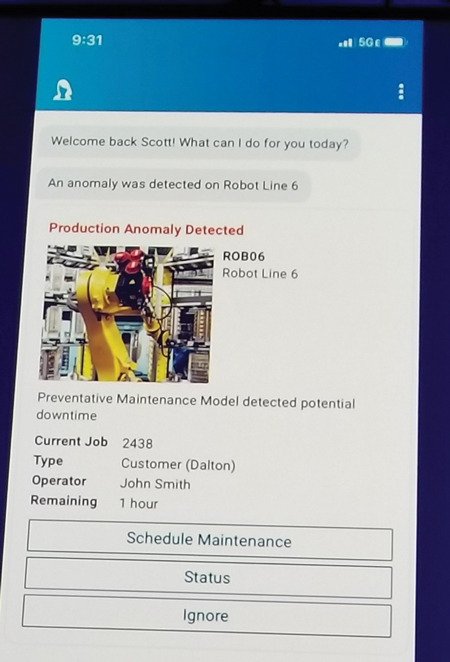 At Epicor's 2019 Insights users-group meeting, the company unveiled Eva, its digital agent that employs artificial intelligence to provide instant access to data and alerts, and assist users in finding needed information.
Beyond request/response conversations, Eva uses AI to proactively deliver alerts and carry out targeted actions based on combinations of events, market statistics and historical data. Designed to extend and support the workforce, Eva, as Epicor officials describe, can contribute timely insights that improve accuracy and problem-spotting, and can forecast and automatically adjust production or distribution levels in-line with customer demand.
"New forms of interacting with business software solutions are a key to accelerating the pace of operations and improving the exchange of data and information," says Scott Hays, senior vice president of product marketing at Epicor. "Having an intelligent agent at hand will help companies become more agile and responsive to unexpected events and changing customer demands."
Eva enables users to interact naturally with their ERP systems, Hays explains.
"This makes the breadth and depth of the industry-specific functionality and information available inside and ERP system directly accessible to a larger audience, boosting productivity and efficiency, and giving the company an improved return on their ERP investment," he says.
Developed using AI services from Microsoft Azure, Eva can be added to all sizes and types of Epicor ERP implementations—on-premise as well as in the cloud.
"Due to its machine-learning component, the more you use Eva, the better it will work for you," says Hays. "We are confident that using an AI-based agent that has deep industry-specific applications will make their enterprise systems more predictive, adaptive and proactive. Eva will enable customers of all sizes, regardless of their operating model, to increase productivity, work smarter and grow their business in whatever direction they want in today's Industry 4.0 ecosystem."
Also new, Epicor IoT connects machines to the Microsoft Azure IoT Hub for Epicor ERP. Data are acquired directly from IoT sensors and visualized on the ERP home page and ERP manufacturing execution system (MES) shop-floor interface, allowing manufacturers to monitor real-time production data.
The new version also offers modernized and refreshed ERP MES screens, courtesy of Epicor's Kinetic Design framework, and a transformed user interface, also through the Kinetic Design System. With this initiative, Epicor is introducing modern looks for many popular screens and applications. These enhancements include a new mobile time and expense application, a refreshed Gantt-based graphical project management board, and a job scheduling board.
Other new features include automated order entry and a supplier portal.
In addition, at recent industry events, along with its ERP software for manufacturers, the company showcased other offerings that combine with Epicor ERP to help users repeat or avoid certain production outcomes, sell more via ecommerce, and gain a deeper understanding of their operations.
The offerings include Epicor Data Analytics (EDA), which helps turn stored data into actionable data. Knowledge gained via EDA allows manufacturers to reduce costs, identify new opportunities, support specific programs and speed up decision making, according to company officials. Epicor Commerce Connect integrates ecommerce with other business processes in real-time for manufacturers interested in online sales, and reportedly results in a ecommerce website focused on convenience, ease of use and repeat ordering.
Epicor Mattec MES, a real-time MES, monitors machines and analyzes machine-related data such as overall equipment effectiveness, run rates, scrap, yield and energy consumption. The system captures data directly from machines and operators, and delivers production metrics and real-time operations analytics in a simple-to-digest visual manner. It helps customers drive profitability, increase capacity, improve quality, and empower employees on the shop floor to make better decisions using up-to-date information, according to Epicor officials.

See also: Epicor Software Corp.
Technologies: Management