MES Software Turns Shop-Floor Data into Informed Production Decisions and More
May 29, 2020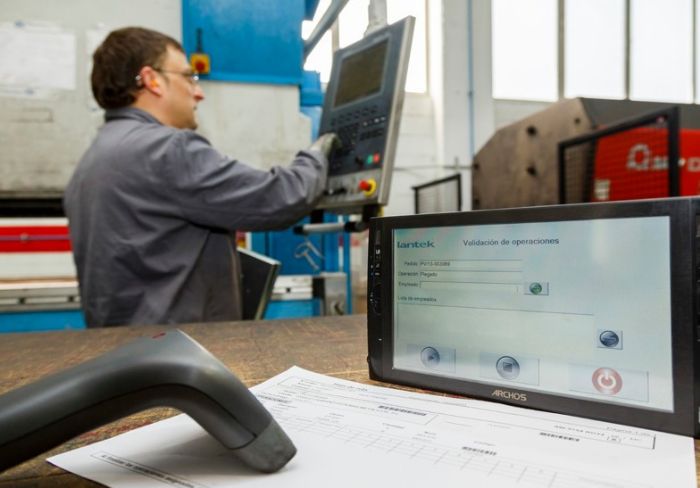 Lantek's MES Wos software for sheet metal manufacturers is designed to help them along the path to digitization, as it assists managers in maintaining control of manufacturing operations and delivering high-quality products on time and at a profit.
An MES system enables use of data from the workshop to make decisions about investment, customers, markets, pricing and reorganization. Crucial in the process: gathering real-time, high-quality data from around the factory. Lantek MES Wos gathers such key data from the production process, including machine status, labor, materials, inventory and more, according to Rob Powell, commercial director of Lantek Systems UK.
Lantek MES Wos also provides all of the information about every job to be completed, including nesting layout, material assigned, stock levels in the warehouse, processes and the machines to be used. Feedback from the shop floor derives from operator input at shop-floor terminals and direct status monitoring on some machine-tool models. Lantek, through its Opentalk communication system, is developing the capability to extend this link to all types of machinery.
The accurate data gathered enable decisions to be made as shop-floor circumstances change. For example, managers can decide to switch the machine to be used, initiate rework to replace damaged parts, nest parts into material remnants to maximize utilization, and monitor part and material stock levels--closing the loop between what was planned and what actually occurred.
By both supplying information to the workshop and collecting data from the shop floor and machinery, Lantek MES Wos lies at the heart of the MES system, according to Powell. As more machine tools can link to communication systems such as Lantek Opentalk, detecting when machines start and stop and making decisions based on that information will become fully automated.
Using such technology, Lantek has developed automated production lines that typically involve sheet metal stackers/loaders, laser cutting machines and bending machines. Via Lantek MES Wos, such lines become aware of when each operation completes, enabling automatic passing of parts to the next process. Such lines also can include storage, as well as automated handling and tool changing