Machine-Intelligence Platform Added to Shop-Management Software
May 22, 2020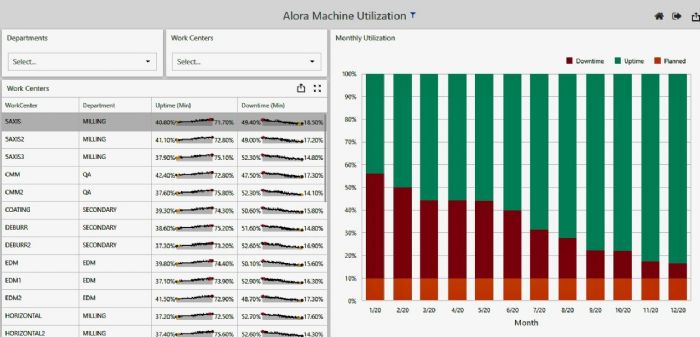 ECI Software Solutions, via a recently announced strategic relationship with Data Inventions, Inc., is delivering the Alora machine-intelligence platform to users of its JobBoss shop-management software. Connecting JobBoss data directly with real-time machine performance creates visibility at an actionable level so that operators and managers can run business operations more effectively, according to ECI officials.
Recognizing the challenges faced by manufacturers in gathering and assessing machine information to make accurate business decisions, ECI entered into the relationship that allows JobBoss users to use Alora in conjunction with the previously integrated Lojic dashboard to capitalize on the real-time information.
Through Data Inventions' Alora, machine operators and managers can connect using simple, intuitive interfaces that help prevent errors from occurring and avert defects throughout the production process. Automated systems analyze data in real time and trigger actions designed to help reduce downtime, prevent the chances of failure and improve output delivery.
Reported benefits for users through the integration of Alora with JobBoss:
Insight into machine data. Users can acquire greater control and understanding of the running status of machines and their run times, and when machines are due for maintenance. This increases the capability to detect machine failures before they occur.

Improved overall equipment effectiveness. Users can enhance manufacturing productivity and quality by measuring, recognizing and improving shop functions.

Decreased downtime. Automatically analyzing data in real time can trigger actions that prevent failures, reduce costs and improve outputs.
"We started on the shop floor and designed Alora to bridge the information gaps that mid-market manufacturers have struggled with," says Duane Clement, Data Inventions CEO. "Empowering JobBoss users with Alora interfaces and shop-floor insights is enabling operators and managers to make better decisions and immediate improvements."
Adds Matt Heerey, president of ECI's Manufacturing Division: "Collaborating with Data Inventions, we will offer the benefits of advanced Industrial Internet of Things technology to our customers."
Technologies: Management