Safety also has been a focus for Pentaflex, a 2014 winner of PMA's Award of Excellence for safety, but which saw its lost-day total increase following its hiring spurt. Its renewed efforts to raise safety awareness in 2016 led to a dramatic improvement in its safety performance.
Safety, and other topics critical to PMA's future under Arndt and other chairmen to come, takes a front seat as PMA looks to invest in e-learning technology. The association has identified several training programs and additional educational material that need updating, and seeks to do so in a manner that allows metalformers to access them via an e-learning system.
A Diverse, Deep and Broad Background Serves Dave Arndt Well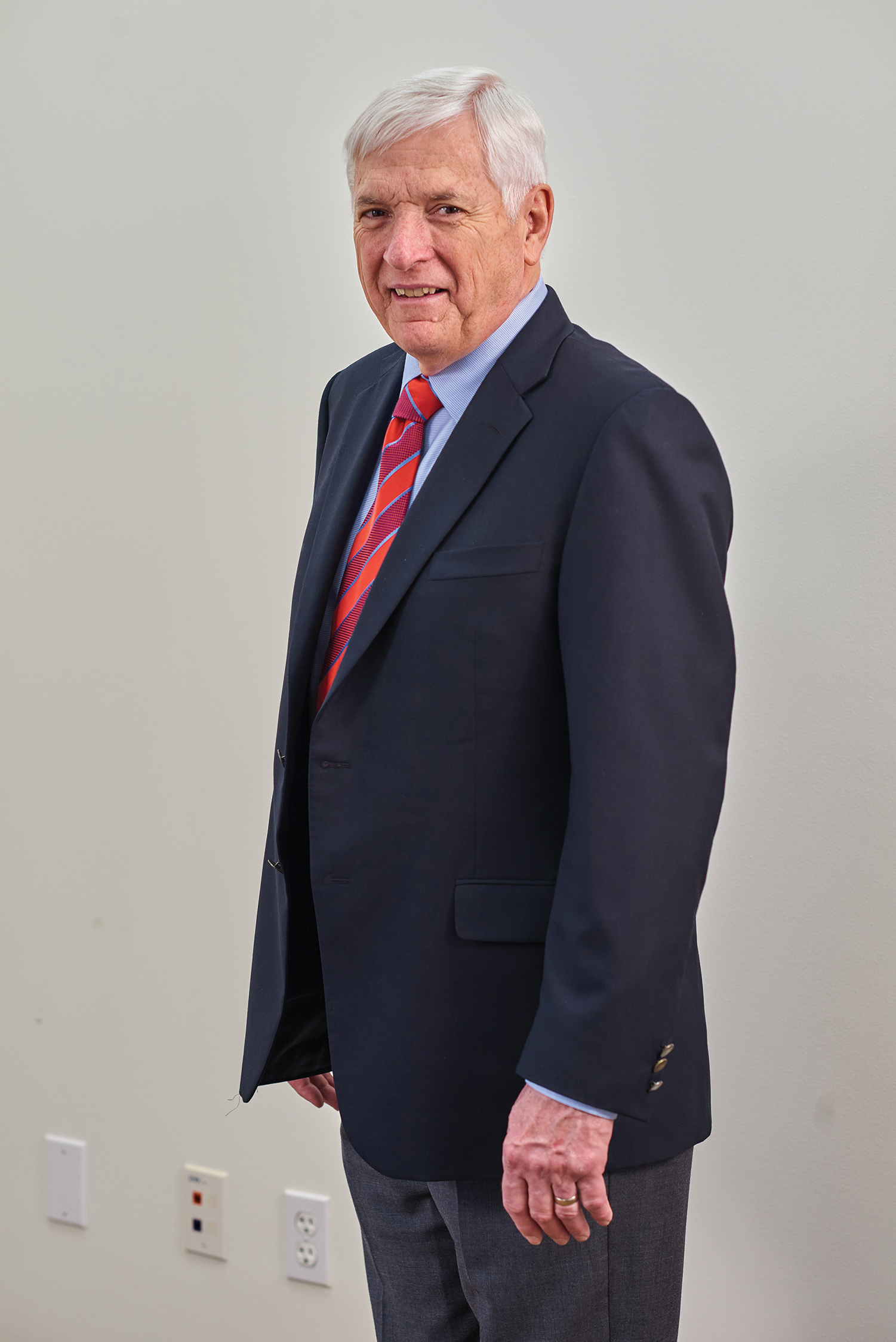 The list of companies where Dave Arndt has worked couldn't be much more impressive—it includes General Motors, Ford, Creative Industries, Oxford Automotive, Faurecia and AG Simpson. And, he's managed small to mid-sized metalforming companies—Eclipse Manufacturing and, currently, Pentaflex. He's worked on the production floor and has held middle- and top-management jobs, all of which have fueled his passion for manufacturing and stoked his competitive fire.

A graduate of General Motors Institute, Arndt went to work on the production floor of Chevy Detroit Gear and Axle, then moved over to Ford Engineering and progressed into middle management (earning a patent along the way related to brake engineering). From there Arndt entered the prototyping world, first at Creative Industries and then with his startup company, Advanced Vehicle Concepts. Career milestones include working on concept vehicles for GM, composite-tooling work for the black-box" B2 bomber, and development of aerodynamic class-8 truck hoods.

Over his diverse career, Arndt has cherished the opportunity to learn from some of the automotive industry's top managers, and held positions including engineering manager, vice president of sales, vice president of engineering, vice president of operations, president and now CEO. Working with larger companies exposed Arndt to manufacturing on a global basis, with hands-on metal-stamping experience in far-away places like Brazil, Thailand and Venezuela. Such a diverse background, he believes, allows him to bring a unique skill set to Pentaflex.

"Pentaflex is a family-owned business," he says, "and they're dedicated to driving the company forward using innovative management techniques and by investing in technology. We've invested $10 million since 2014 to upgrade the plant, including two new automated assembly cells and two new servo presses, and we refurbished a 1600-ton stamping press and built a 26,000-sq.-ft. plant addition.

"Since we have a small management team," Arndt continues, "I am able to leverage my vast experience and get involved in new programs and support our engineering efforts, and work in product development, even marketing."

Arndt's been at the Pentaflex helm since 2012, and since that time the company has won five PMA Awards of Excellence, including awards for safety and product development. The firm manufactures heavy-gauge deep-drawn parts for the heavy-truck market, and has new initiatives (using its new servo presses) to move into lighter-gauge stamping. And, it's added new CNC machining centers in the last year or so to develop machining as a core competency.

"I spend a lot of time thinking about the future," Arndt says, when asked to share what he's brought to Pentaflex. "And one thing I've learned along my journey in this industry is to always let everyone at the company know what's coming. I am careful to communicate weekly with all employees about what's happening in the industry (insights often gained from attending PMA events), and how it all impacts them and the company. I want everyone to understand what's happening around us, and PMA is a critical resource in that regard."

"We have launched a project to develop e-learning that will provide a single, branded portal for PMA education materials," Arndt shares. "E-learning will enable PMA to create and deliver content while allowing HR managers to assign courses, monitor learner participation and assess learner performance."

From the student or learner perspective, e-learning provides personalized access to assigned course materials, messaging and notifications, and access to scores and transcripts. Access to content can be accomplished through a variety of devices, including laptops, tablets and cell phones.

"Another reason for investing in e-learning," Arndt adds, "is to help metalformers better comply with regulatory requirements. Safety programs, for example, are a common use—users can readily demonstrate that all appropriate staff are up-to-date on required certification and training."

Re-engagement: Focus on Mentoring and Next-Gen Leaders

With so many companies facing the dilemma of aging senior leadership, Arndt asks: "How can we get the next-gen leaders involved in PMA?"

The association has been addressing that question for the last several years, and most notably it launched in 2016 the MFG NXT initiative, and the Leadership and Mentoring Academy (LMA).

MFG NXT is a PMA recruitment and retention initiative centered on supporting millennials and gen-Xers rising through the ranks of the metalforming industry. Launched in mid-2016, its programming includes events that bring together talented young leaders to learn about a variety of topics, including technology- and leadership-based subjects.

"In 2017," says Arndt, "we'll present a series of four webinars on behalf of the MFG NXT program, and sponsor roundtable discussions throughout the year."

Meanwhile, PMA's LMA, born from a commitment made by past-PMA Chairman Bill Smith (president of metalformer Termax Corp., Lake Zurich, IL), and funded in part by a grant from the PMA Educational Foundation, aims to provide structured mentoring to the next generation of metalforming leadership. Veteran industry professionals are volunteering their time and expertise to support this important cause.

Arndt helped PMA launch the LMA, by participating as a mentor during the three-month pilot program. He has been mentoring Russell Hurst, sales manager (and previously operations manager) at metalformer Phoenix Specialty Mfg. Co., Bamberg, SC.

"Dave has shared his extensive, unique experience with me," Hurst says, "having worked for multiple companies and in different markets. He's done startups, he's done turnarounds, and he has a wealth of experience that I don't otherwise have access to. Dave's been there for me, sharing ideas and in many cases cautioning me on what not to do.

"Having someone to bounce ideas off of who's been there before, yet has no direct stake in our company, is very valuable," Hurst continues. "Dave's been a guiding voice—he understands how larger companies, such as some of our customers, function and helped me understand how to better relate to them. And, he's helped me develop a management style that's helped me contribute to moving our company culture toward one of continuous improvement and metrics."

PMA officially launches the LDA this month, with a boot camp for mentees kicking off the 12-month program. "We have 15 mentees signed up, and are actively seeking additional mentors," Arndt says. "We have a faculty member from Case Western University (in Cleveland, OH) leading the program, providing resource materials, and mentees will do some journaling over the 12 months. Then, PMA will match them up with mentors based on specific interests and expertise. PMA also has four quarterly webinars planned to support the LDA programming."

Lastly, Arndt points out that on September 19-22, 2017, ICOSPA (the International Council of Sheetmetal Presswork Associations) will host its 19th Congress, in Suzhou, China. The event enables PMA companies to interface with metalformers from Europe and Asia to learn about best practices. Attendees will tour Chinese metal-stamping companies, and hear presentations on big data, testing and inspection of stamped parts, and forming-process simulation.

"This is a great opportunity for PMA members to visit China and see what's happening in its metalforming companies," he says.

Advocacy: Let's Engage on the Local Level

Arndt has been a strong advocate for building strong ties between manufacturing and government, long before he went to work in the metalforming industry. That advocacy has continued during his time with PMA, having participated in Washington, D.C., fly-ins with the association to lobby on Capitol Hill, and regularly hosting local politicians at his plants, all to voice our industry's concerns regarding policies addressing healthcare, taxation, regulations and other critical issues.

"As an association, we have to become more active," he stresses, "and I believe it all starts at the local level. Bring congresspeople into your plant, and make the effort to visit D.C. to talk to your representatives. Localization is the key, and I'd like to see PMA encourage, at the District level, our member companies to work with their mayors, state representatives and even their school administrators.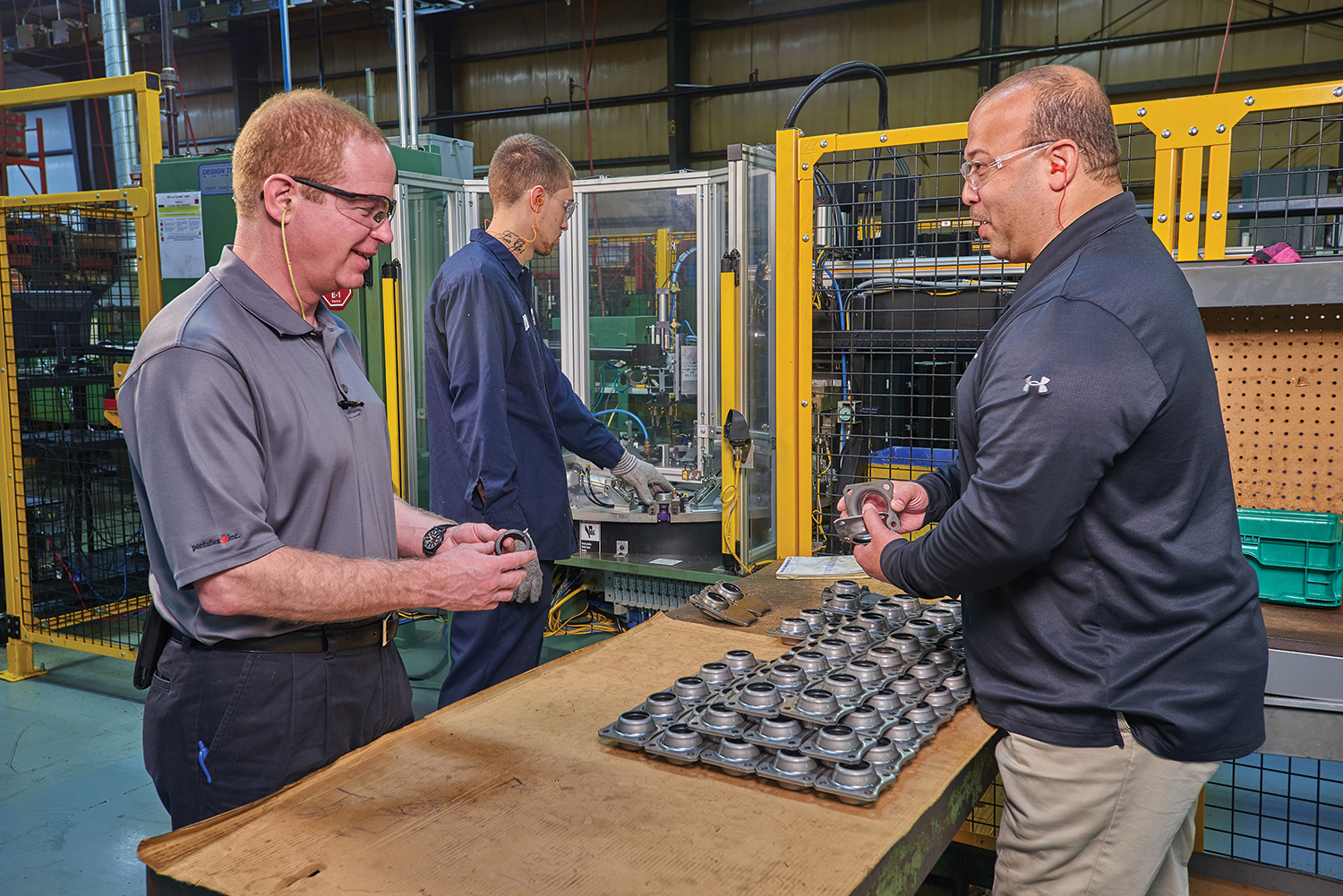 This automated cam-bracket assembly cell, which greatly improved productivity at Pentaflex, includes stations for welding, installing and torqueing bolts, and inspecting the completed assembly. Shown are operator Justin Silvers, facilities manager Todd Roderick (right) and vice president of operations Bob Jones.
"I believe we need a volunteer leader within each PMA District to serve as an advocate for local government relations," Arndt continues. "It's a missed opportunity—we have very vibrant and active District boards; they should serve as conduits to our local politicians. The impact of bringing these politicians into our plants and to our meetings can be significant—they can learn a lot from us, and we can learn from them how to better engage as companies and as an association. I see this at Pentaflex, where our ownership (the McGregor family) is very active with our city and state politicians."
A great place to start is by participating in Manufacturing Day activities and inviting the community—including local politicians—to attend. PMA, which sponsors Manufacturing Day, recently launched, through its Educational Foundation, a new website dedicated to helping manufacturers design Manufacturing Day activities. The site—the Center for Metalforming Careers (www.center4metalformingcareers.org) documents all member activity related to Manufacturing Day, and includes a toolkit that companies can use, including a video that can be shown to visitors explaining the career opportunities available to people working in the metalforming industry.
"The C4MC site will be enhanced over time," Arndt says, "with new content added to educate parents and students about metalforming as a rewarding career. And, it will seek to assist educators and employers in recruiting and retaining talent." MF
See also: Precision Metalforming Association
Technologies: Management, Safety, Training