Long-Bed High-Speed Press
A 60-ton 50-in.-bed Model BSTA 510-125 high-speed press starred in the Bruderer stand. Compared to the previous model, the BSTA 500-110, the new press offers an extra 7 in. of bed length. This allows for higher bending moments and more room for die stations. Bruderer designed the press to allow for minimized bending strain and to increase the ram's resistance to tilt. Maximum press speed: 1050 strokes/min.
Robots Make a Big Splash for Automating Brakes and Presses
LVD made a huge splash at EuroBlech with its largest stand ever, showcasing new concepts in press-brake, laser and punch-press automation and, for bending particularly thick and hard materials, its new Easy-Form 200 adaptive forming system for plate as thick as 30 mm.
LVD has focused on mid-level automation, company representatives say, where there is an optimum trade-off between automation and cost. It also has begun to integrate more and more standard robots into its fabricating machines.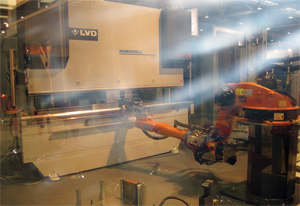 A good example of this philosophy, on display at the exhibition, is the Robocell (pictured), a compact automated bending cell for small and medium-sized components that combines an LVD PPEB press brake with a Kuka handling robot. The press brake is mounted at a normal operating height and the robot is placed 2 m from the bend line to allow unhindered access should a fabricator wish to operate the press brake manually. The cell would typically include two input stations, a centering table, a regripping station and two output stations.
LVD also offers robots to automate loading and unloading of punch presses. At EuroBlech it displayed its Pick-Sort system that uses a Kuka robot to turn a Strippit V-series machine into an automated punching system. In contrast to other pick-and-place automation systems, the pick-Sort carefully places parts onto a stack rather than dropping them.
Also new for EuroBlech: the Strippit LP-1225 laser-punch combination machine; and LVD's latest addition to its Axel series laser cutting machines, the Axel 4020.
Schuler Surveys Customers Before Introducing New Coil Feeder
Modularity and global sourcing of components—that's what customers asked for when Schuler surveyed them when developing its new Power Feed coil-feeding system. Among key features are the use of servo direct drives and low-clearance maintenance-free planetary gears. Customers can select among three models based on coil weight capacity, and can then, based on changing needs in the pressroom, retrofit to upgrade capacity. Due to the modular design of the feeder, even maximum coil width can be adapted to suit customer needs.
Mechanized Plasma-Arc Cutting Setup Showcased
Amongst the bevy of booths showcasing cutting and welding equipment was that of Thermadyne, which introduced its Ultra-Cut 300 family of cutting systems under the Thermal Dynamics brand. Ultra-Cut setups combine an inverter power supply, a new gas-flow management system and the XT-300 torch.Visitors to the stand witnessed the new XT-300 robotic-cutting torch. Auto-Cutsystems are available with 100-, 200- and 300-A capacity.
Thermadyne also introduced its Cutmaster A-series compressed-air plasma-cutting machines for mechanized cutting; and Cutmaster True series of six manual air-plasma cutting machines with the ATC (AdvancedTorch Connector) quick-connect system.
New, Energy-Efficient Punch-Shear Combo
Salvagnini America introduced a new generation of its S4 punch-shear combination machine—the Salvagnini S4X, promising enhanced flexibility, accuracy, energy conservation and productivity. The X-seriesmachine features a completely redesigned manipulator powered by two pairs of rotary electric motors. The first pair employs rack-and-pinion kinematics while the second pair uses two ball-bearing screws to position the sheet.
The new manipulator enables the S4X to offer increased processing speed, reduced cycle times, and increased productivity and accuracy. All of the S4X's 96 punching-tool stations are live and ready to simultaneously punch, countersink and emboss parts. And the built-in shear makes cuts of any length.
Other major upgrades in the X-series machine include a new hydraulic power pack that reduces power consumption by 30 percent, an optional Cartesian stacker, and the expanded ability to incorporate all types of feeding connections.
Salvagnini debuted the S4X along with its P4X panel bender at EuroBlech. We were told that compared to previous models, the new machine soffer as much as a 20 percent increase in speed and cycle time. Following the show, the S4X on display was shipped to Danish manufacturer Expedit; the P4Xwas delivered to the German company Klingenburg, a manufacturer of ventilation systems.
Trumpf Debuts New Machines to Cut, Punch and Bend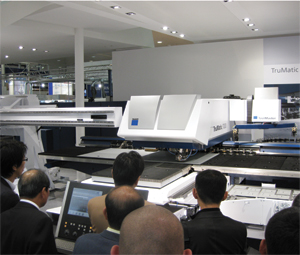 Laser-punch combos seemed to be the star attractions at the booths of fabricating-equipment leaders at EuroBlech, including Trumpf, which introduced to the European marketplace the TruMatic 7000 (pictured). Themachine comes in two sizes—2540 by 1280 mm and 2540 by 1570 mm—with as many as 22 tool stations in the linear magazine, and a 4000-W laser. Due to a newly designed beam-guidance system, the TruMatic 7000 can process sheetmetal in arange of thicknesses using one cutting head. And, an automatic nozzle changer takes care of nozzle exchanges. Maximum sheet thickness: 8-mm mild and stainless steel, 4-mm aluminum.
Also anchoring the Trumpf booth was the TruLaser 3030 New,which also features automatic nozzle changing to minimize downtime. Fabricators can install a pallet changer perpendicular to the machine to minimize the overall footprint. And its 5-kW laser resonator has a standby mode that reduces power consumption to just 15 percent of the rated value.
Editor's Note
Four full days walking the massive EuroBlech show yielded too many technology highlights than can be described here. So, keep a look out for future issues of MetalForming, in which we'll present many more EuroBlech product introductions. In fact, turn topage 12 in this issue for some fastening- and assembly-related technology introductions we spied in Hanover last October. MF
Industry-Related Terms:
Thickness
,
Transfer
,
Bed
,
Bending
,
Gauge
,
LASER
,
Lines
,
Model
,
Pallet
,
Plate
,
Point
,
Stainless Steel
,
Die
,
Form
,
Forming
,
Turret
View Glossary of Metalforming Terms
See also: LVD North America, Victor Technologies Group, Inc., Bruderer Machinery, Inc., Moeller Precision Tool, TRUMPF Inc.
Technologies: Bending, CNC Punching, Coil and Sheet Handling