Interesting Details About Coefficient Of Friction
September 1, 2008
A hot topic today is the rated miles per gallon (mpg) for each car model. A driver brags that he ran his own test and achieved 31 mpg in city driving — above the 25 mpg standard rating for his model. Should we be amazed at his result? No, because insufficient data are available to interpret the conditions under which he ran his test. Three major factors control his mpg: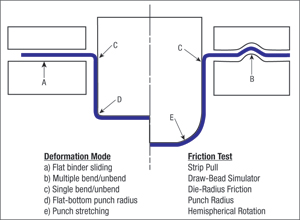 Fig. 1—A typical stamping has five different deformation modes requiring five different friction tests to obtain appropriate coefficient of friction values.

1) the vehicle, 2) the driver and 3) the test environment.
For our discussion, let us ignore the vehicle. The second factor—the driver —obviously is very important. Does the driver start and stop slowly in anticipation of the traffic ahead or perform the stomp-on-the-accelerator slam-on-the-brakes sequence? The third factor is critical. Does the test occur between midnight and 4 a.m. or in the middle of morning rush hour? For rush hour, is the driver jammed on the express with all of the other traffic heading toward the town center or smoothly sailing in the opposite direction on the open road? The worst driving test is stop-and-go through a business district with nonsynchronized traffic lights.
What is the relationship between testing for mpg and testing for coefficients of friction (COF)? Assume someone tells you his lubricant has a COF of 0.1 compared to another lubricant with a COF of 0.15. That number has no meaning because a lubricant by itself has no COF. Like the mpg test, three major factors control the COF: 1) the lubricant, 2) the other two components that create a COF and 3) the test environment. Let us ignore the details of the lubricant as we did with the vehicle in the example above.
The COF is the output of three inputs acting together—the sheetmetal, the lubricant and the die. Changing one or more inputs creates a new COF. Substituting an electrogalvanized coating for a hot-dipped galvanized coating can result in a large change in COF—either an increase or decrease. Because standardized sheetmetal samples and dies are not available, the most reliable COF data are comparisons of multiple samples of different lubricants (or different sheet alloys with the same lubricant) tested at the same time in random sequence. Testing one lubricant on one day and then testing a second lubricant on some other day is not experimentally correct. Changes in the test conditions, such as ambient temperature and humidity, adjustments to test equipment, or even operators can bias the results.