Trend Toward Automated Finishing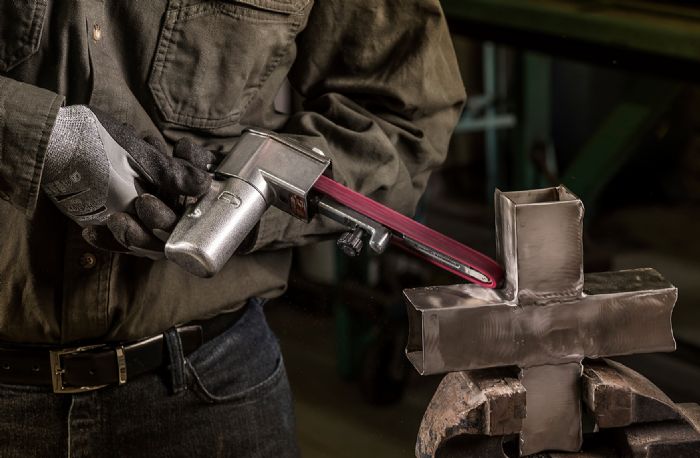 The trend toward automated production lines in metal forming and fabricating has seen deburring and finishing operations incorporated into these lines, offers Davila.
"I'm coming across a high degree of movement toward automated lines to replace manual processes for deburring and finishing applications," he says. "That stretches across multiple industries, not only for stainless-steel fabrication in plumbing, hardware and industrial, but also in the automotive world where high production rates and high line-feed speeds are critical. More and more, these manufacturers are shifting away from old-style deburring and finishing solutions such as ceramic and bonded wheels."
Avoiding line slowdowns and interruptions in automated operations demands use of the right deburring products and setups. This is where support from a technology supplier with robust product and field services proves invaluable.
"Selection of a wheel without the needed density or abrasive for a particular automated application negatively affects line speeds, which delays manufacturing," Davila says. "This is especially true in specialized applications such as aerospace manufacturing, with expensive parts made from unique materials that may require use of specialized abrasives."
To protect such aerospace parts during finishing, the less-aggressive nature of nonwoven abrasives that also provide the ability to conform to unique part-surface features prove beneficial. And, should more aggressive finishing be required, nonwoven products are available to do that while still delivering the other benefits of nonwoven technology.
Options Abound for Various Applications
In cases beyond aerospace, other options exist for needed deburring and finishing performance. Knife manufacturing offers one example.
"Here, manufacturers likely stamp stainless-steel blanks for fabrication into blades," Davila explains. "They can employ coated abrasives and nonwovens when finishing to ensure deburring of parts at an even rate without damaging the workpieces. This can include a belt system with 40- or 60-grit coated abrasives, primarily using aluminum oxide, a tough and durable grain, as the abrasive. From there, workpieces may require no further finishing or surface conditioning such as polishing."
In fact, aluminum oxide proves ideal for deburring many steels and other ferrous materials. Silicon carbide, on the other hand, works best on aluminum alloys and specialized materials such as titanium, according to Davila.
Like abrasive mediums, options exist for finishing wheels, including high-surface-area drums and combination wheels that have grinding, blending and even cutting capability. The wheels come in various diameters to best fit the application, part size, part detail and the amount of working material desired around the wheel core. Softer wheels may be specified for polishing applications, or harder wheels for deburring.
Should an application be limited to deburring, a more aggressive route is recommended, employing high-density coarse-grit material. Should deburring and blending both be needed, a medium-density medium-aggressiveness product should suffice, followed by a fine abrasive to complete the sequence and provide a final finish, according to Davila. A quality supplier can provide expertise to optimize the finishing process to productively ensure incorporation of all required deburring, blending and final-finishing steps.
Reduce Guesswork When Robotic Grinding
While robots can be programmed relatively easily, such solutions present difficulty in adjusting for differences in abrasive products, notes Davila.
"Reaching between part features or finishing intricate surfaces, situations where manual operation can benefit from an operator's ability to adjust on the fly, become difficult with automation," he says." As a result, we are seeing increased use of abrasive bristle brushes for automated-finishing applications. The flexibility of the brush allows a robot to better reach difficult surface areas without damaging a workpiece. Combination grinding wheels and softer abrasive mediums also find greater use here."
Bringing in grinding expertise early in planning for automated grinding operations, offers Davila, helps deliver the best-possible finishing solution. MF
Industry-Related Terms:
Abrasive
,
Alloys
,
Plate
,
Polishing
,
Aluminum Oxide
,
Brass
,
Core
,
Discoloration
,
Ferrous
,
Forming
,
Grinding
,
Grit
,
Hardware
,
Lines
,
Resins
,
Silicon Carbide
,
Stainless Steel
,
Surface
View Glossary of Metalforming Terms
See also: Norton Abrasives
Technologies: Finishing