Automated Weld-Grinding System
February 26, 2020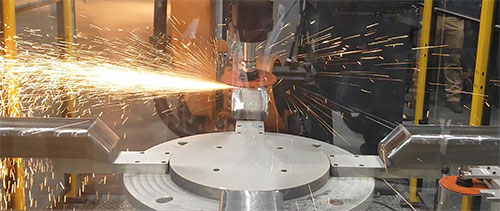 Kuka Robotics at FABTECH displayed ready2_grind, an automated weld-grinding system combining Kuka and 3M technologies. The system includes a six-axis Kuka KR 60 robot with control panel, 3M grinding components and abrasives, critical hardware and software, and the support of 3M and Kuka system integrators.
The preconfigured automated weld-grinding system features a 3M Servo Rotary Tool, the motor that spins the abrasive discs. The tool, featuring and automatic tool changer and available with 3 or 5 hp, can be programmed to select and maintain speeds to optimize abrasive performance.
The 3M Active Compliant Force Tool gives the ready2_grind its "human touch," attaching to the robot arm and allowing the Servo Rotary Tool and abrasive to maintain contact with the workpiece surface at a specific force or pressure. The system also includes the 3M Abrasive Starter Kit, with four options for grinding carbon or stainless steel.
With the system, users also receive two days of 3M application engineering support to provide proof of concept and abrasive-process recommendations, access to the 3M Customer Abrasives Methods Center-Robotics Lab, and on-call service provided by Kuka.
See also: KUKA Robotics Corp.
Technologies: Finishing, Pressroom Automation