Value via E-Coat
These automotive parts make their through a coating process at Michigan-based Spectrum Industries.
One to add value is to source processes that fit snugly into the supply chain and are attractive to OEMs in terms of part price, quality and performance. With so much riding on OEM part contracts, suppliers must, in turn, shore up their own supply chain. That's what SKD's Jonesville, MI, plant did when seeking a new e-coater for its structural body stampings.
Near the end of 2007, SKD-Jonesville brought in Spectrum Industries, with locations in Grand Rapids and Belding, MI, to e-coat oil pans.
"Spectrum paints what may be the most difficult part that we send out for this type of work," says Steve Orey, SKD plant manager. "This is the fourth painter we've contracted with in the two-and-a-half years since we launched this program, and none of the other painters could provide the level of quality required, leading to extensive repair, rework and inspection. Spectrum took the part through new-product-launch containment (to prevent shipment of poorly painted parts back to SKD), and instituted a second level of containment. In that second level Spectrum has not found any defects. Any issues are dealt with on the paint line at Spectrum, before parts ever reach us."
The oil pan must be tilted correctly on racks during the coating process. Not enough tilt yields paint beads on the bottom of the pan. Too much tilt can create air pockets, another no-no. Also, the part is a metal-plastic-metal sandwich, creating further challenges as it must be electrically charged to get paint to adhere to the surface.
"Spectrum created low-cost racks that from the outset properly oriented parts," Orey says. "The pans coming off of that line look better than any pans I have ever seen."
Spectrum also e-coats parts for Milwaukee Wire Products (MWP), Milwaukee, WI, another automotive supplier that, like SKD, sees value added as the only to succeed.
MWP, a division of privately held Charter Mfg, produces retaining rings, valve locks, valve spring retainers and indicators (plunger-type devices typically used to read fluid levels) for OEMs.
The company produces tubing assemblies via processes including tube cutoff, welding and CNC machining as well as injection molding, with cold forming as another MWP part-production process.
"It makes sense for our OEM customers to order these products from a single source," says Jim Perry, MWP purchasing manager. "The more our customer can get out of one source the more streamlined the operation, making everything easier to deal with. Automotive has been driving in that direction for a long time and is doing it very successfully. The expectation is that we supply more and more and contribute more consistently, and we have to improve on that every year."
Quick Turnaround Required
"You need a supply chain that responds to that same directive," Perry continues. "Quick inventory turns and lead-time compression are critical, as is the ability to respond quickly via product development and time to market."
That's why MWP chooses its suppliers carefully.
"We had been dealing with Spectrum on a lesser scale and we have escalated that across the board with our automotive customers," Perry says, pointing out that Spectrum coats as many as 4 million parts per year for MWP. "The short amount of time that Spectrum takes to build the racks and tooling and enter full production is impressive."
Seeing Value in Location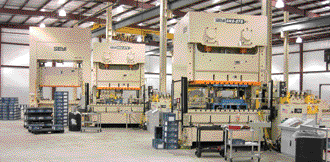 Great Lakes Metal Stamping, in May 2007, opened a plant in Cusseta, AL, to serve its Southern Tier One and OEM customers. Here's the pressroom featuring three new coil-fed mechanical presses: two 275-ton presses and one 300-ton model
While value added often is associated with e-coating, in-die assembly and other operations, it can just as well refer to something as significant as plant location. Perhaps you've read the MetalForming article in January 2008, Special Report: Metalforming in the Southeast (beginning on page 22). It chronicled the growing metalforming population in the Southeast United States, with a huge portion of that serving transplant automotive OEMs and Tier Ones. Customers see extra value in having suppliers close at hand, which brings inventory, delivery and cost advantages.
That's what led Great Lakes Metal Stamping, Inc., Bridgman, MI, a Tier One and Two automotive supplier as well as supplier to appliance and other industries, to open a plant in Cusseta, AL. The Alabama plant was built to service a Tier One supplier to Southern transplant OEMs, with about 30 parts and related tooling transferring from Bridgman to provide the initial work.
"We were serving our customer well, but were told that we had to develop a Southern presence or our customer would take its tooling to a stamper located closer to the OEMs," says Rayme Bracken, technical sales engineer for Great Lakes. "We conducted market research and determined that the South was gaining a lot of automotive work. Moving down there has proven to be a great decision."
Processes at Great Lakes' Bridgman plant include precision stamping, custom welding, assembly, and tooling maintenance and repair. The 38,000-sq.-ft. Alabama facility, which began operations in May 2007, brings those same services to Southern customers via a roster of 23 employees. Equipment includes two 275-ton mechanical coil-fed presses and one 300-ton press, all from Seyi America, Inc., Walnut, CA, backed by automated resistance-welding machines and a CMM-supported quality lab. Plans call for robotic gas-metal-arc welding, vibratory deburring and parts straightening, according to Keith Hettig, Great Lakes president.
To ramp up quickly in Alabama and maintain supply-chain continuity, Great Lakes specified a CMM and software as well as press models and coil-feed lines that duplicated those in Bridgman.
"And we had inspection programs ready to send down there before the walls were even up," notes Bracken.
The Alabama plant works with high-strength and mild hot-rolled steel to produce motor-carriage components, door-beam brackets and similar structural parts in medium to high volumes, with low-volume work limited to service-quantity jobs.
Best Option: One-Stop Shop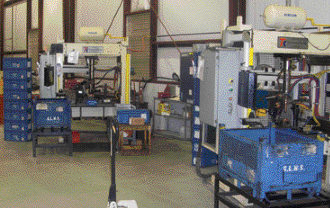 These resistance-welding cells comprise part of the value-added lineup at Great Lakes Metal Stamping's new Alabama plant.
Whether in Michigan or Alabama, the shift in automotive supplier-customer relationships is real, a fact not lost on Great Lakes.
"These days, customers want to provide their suppliers with a broad concept of what their product is going to be," says Bracken. "As suppliers to OEMs and Tier Ones, we have to coordinate the die build and submit for engineering changes. We really have to run the program, whereas in past years customers provided a program manager or at least had many of the program steps completed before the part supplier became involved.
"It is great to be involved at the outset and have an opportunity to define a program much earlier than ever before," Bracken continues. "That allows us to have input on part and tooling design as well as logistics, process design and packaging. But that also makes things quite challenging. Not too long ago part suppliers might receive an RFQ with 50 different parts on it, and suppliers could choose to bid on only the parts they wanted to make. Now, automotive customers want suppliers to run an entire program, not just pick the low-hanging fruit."
Such one-stop shopping is one Great Lakes adds value.
"We had one automotive customer that wanted us to run an entire program, an all-or-nothing deal," Bracken says. "The tools are still to be built, the product is still to be launched, etc.—the program really was in its infancy. The customer did not want to go to one place for prototyping, another for testing, and another for tool build. As a result we established what I call 'handshake alliances,' where some companies have capacity available for certain processes, so we can make use of those alliances and become a one-stop shop for our customer."
Great Lakes also allies with companies with higher-tonnage presses, say 1200-ton capacity, for portions of entire part programs that remain under Great Lakes' control.
"We find suppliers where we can form relationships that benefit both companies," says Bracken. "You're across the table from someone with millions of dollars of work and they want to hand it to you and you don't have the capabilities? That doesn't work."
Sometimes those alliances result in unexpected issues that require fast action. For example, a challenge arose in supply of welding work for Great Lakes, which would have jeopardized production at Great Lakes' Tier One and OEM customer plants.
"So we bought the welding equipment we needed," says Hettig, "and in less than 48 hours were able to get four welding cells up and running in our plant."
Stock Up on Hats
It's apparent from these case studies that the ability to wear many different hats is a must to best serve automotive OEMs and Tier Ones.
"More and more customers want a finished product, whether assembled or welded, so that they can place them directly into their assemblies," sums up Hettig. "Having to wear different hats makes us better. It makes us think more about different processes and different s to get things done." MF
See also: Spectrum E-Coat, SEYI America, Inc.
Technologies: Finishing, In-Die Operations, Stamping Presses