Speed, Technology Net Production Work for Prototyper
December 1, 2007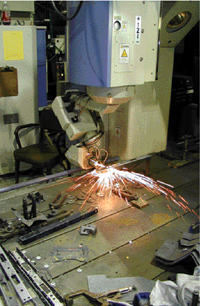 The laser-cutting department at Duggan Manufacturing employs nine CNC laser-cutting machines and seven individual CMMs, backed by software that allows rapid job programming and quality checks. The department creates blanks for the company's stamping department. "This gives us the ability to turn CAD-data concepts into a physical part in days instead
of weeks," says Tony Pinho,
Duggan president.

The continuing effort by automotive OEMs to compress vehicle launch programs pushes the industry's Tier suppliers to speed up.

"Everything we do is a drive toward speed and quality in responding to the customer," says Tony Pinho, president of Duggan Manufacturing, Shelby Township, MI, a Tier One and Two supplier that has adapted to keep pace. "It starts with having our people get quotes out the door faster and extends to compressing cycle times by adopting the latest manufacturing technology and lean manufacturing and processing techniques."


Since its founding in 2000, the company has built its niche in rapid prototyping and short-run production of small and medium-sized parts and components for customers such as TRW, Autoliv, Takata, Delphi, Bosch and Faurecia.


An example of technology adoption can be found in the company's laser-cutting department, which employs nine CNC laser-cutting machines, including six Mitsubishi units, and seven individual coordinate-measuring machines (CMMs).