New Load, Unload and Storage Automation for LVD Strippit Laser Machines
February 21, 2019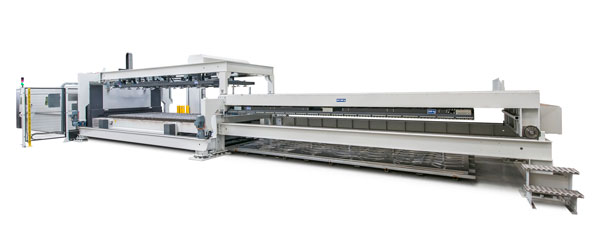 LVD Strippit has introduced new automation offerings for its Phoenix FL 4020 and Phoenix FL 6020 large-format fiber laser cutting machines, including options for an automated load/unload system and a range of Compact Tower (CT-L) options for the Phoenix FL 4020.
The flexible automation systems keep pace with the high-speed cutting of the Phoenix laser, and reduces material handling and preparation time to maximize machine productivity, according to company officials.
The load/unload automation system, available as an option or retrofit, handles maximum sheet sizes of 160 by 80 in. for the 4020 and 240 by 80 in. for the 6020 (pictured), and material thicknesses from 0.036 to 1 in. It offers rapid process cycle times for complete loading and unloading: 65 sec. for the 4020 and 90 sec. for the 6020. The system, constructed to handle large pallets, enables unprocessed material to be stacked to 6.2 in. high, with finished parts stackable to 9.5 in. With its streamlined design, the area above the laser table remains free for manual load and unloading.
Also, the Phoenix FL 4020 is available with six versions of the CT-L for loading, unloading and storage of raw material and finished parts. The CT-L enables automated production from stored raw material to stacked, cut parts in a compact, small footprint. CT-L versions allow for various pallet configurations. Each input and output pallet has a 6000-lb. capacity and 9.5 in. of stacking height. Maximum sheet dimensions are 160 by 80, and 0.75 in. thick.

Technologies: Fabrication