"We needed the flexibility to run a wide range of part sizes, along with maintaining our commitment to our customers to provide tight tolerances on concentricity, a critical spec," says Childers. "To hold those tolerances, we typically use compound blank dies. With these, the parts eject from the center of the tool, so that when the die opens each part is blown out in the middle.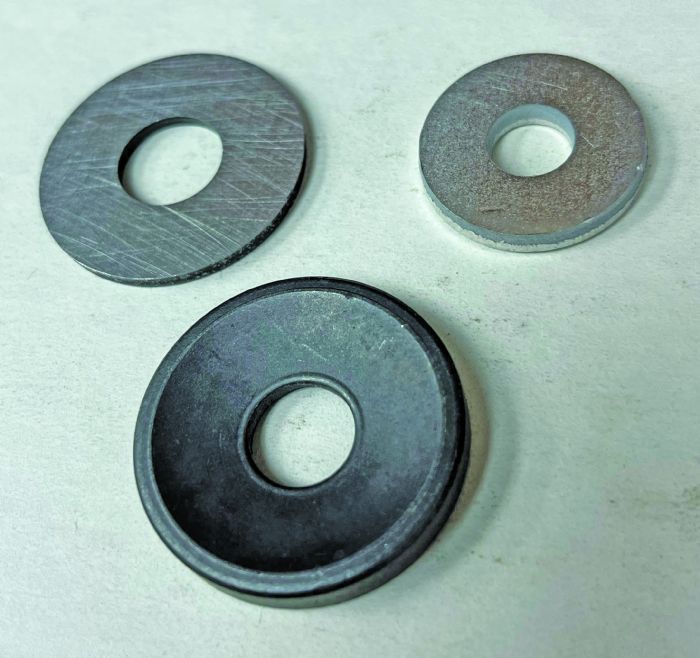 "With this new press," he continues, "we felt that an inclined model offered the best solution for part ejection and allowed us to run at a higher stroke rate than we could on our existing straightside presses."
Since installing the new press in October 2020, that's exactly the improvement in productivity the firm has experienced.
"While we've mainly been using the press to run new low-volume work, in the neighborhood of 1 million pieces/yr., versus tens of millions for traditional higher-volume washer orders," explains Wyan, "eventually we plan to move over some of our existing work, as those legacy high-volume dies require service and rebuild."
Childers notes that the new press has allowed the firm to capture a lot more sales, "as now we're more cost-competitive on lower-volume jobs," he says. "And, some customers have told us that they were having problems sourcing low-volume jobs, so we've seemingly addressed an industry-wide challenge. And, with new customers sourcing lower-volume jobs, they're now coming to us with high-volume work as well, which is icing on the cake."
One Slick Tool Design
From the die-design perspective, changing out a conventional multiple-part-out die can take as long as 90 min. on the firm's conventional straightside presses, lost press time Wyan and his production team sought to avoid on the newer shorter-run jobs it sends to its new inclined press. That led the firm to develop a single-part-out tool for the press that allows it to swap out certain die components and inserts as it adjusts the tool from one part number to another.
About Art Metals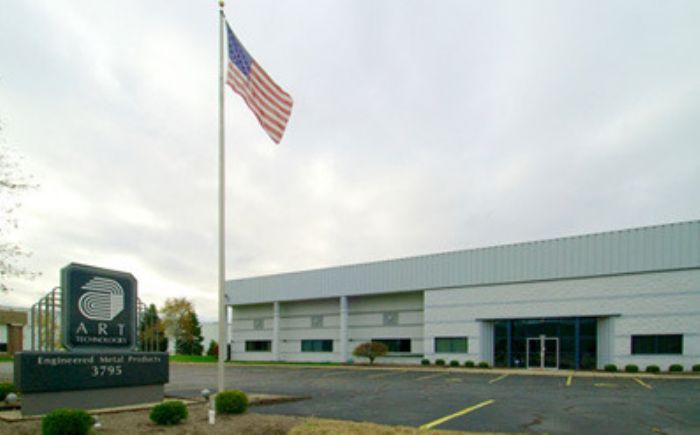 Founded 1943, Art Metals Group (acquired by CM Paula in 2012) remains privately owned and operated, focused on manufacturing difficult and custom stampings. Its product mix includes metal washers, stampings and assemblies, and coined near-net-shape ball and tapered roller thrust bearings.
Its lean-manufacturing plant operates multiple presses with tonnages ranging from 45 to 800 tons, and its toolroom designs and builds progressive and compound dies that can include in-die sensors. It operates from a 70,000-sq.-ft. facility, including a 30,000-sq.-ft. addition completed in January 2022, supplying the global automotive, heavy-truck and other industry sectors.
"We developed the tool design inhouse and had it built at a local die shop," Wyan explains. "We can use the tool to stamp blanks for several different part numbers, some of them specialty washers. The blanks then move to our coining presses to form the unique features that our customers specify."
Coil-fed (from a Universal Feed coil line, formerly Feed Lease), the new press processes aluminum grades as well as three grades of carbon steel, from strip 4 in. wide and narrower. Feed length is automated through the part program on the press control. The die also is equipped with in-die sensors to detect part-out and double-sheets (a slug or if a portion of the tool fails).
"Honestly, it's a slick tool design," Wyan says, "that allows the press operator to not only change the tooling at the press, but should he need to take it out of the press to perform additional servicing, it's only four bolts on the bottom and four bolts on the top. And, it's small enough so that one person can load it onto a die cart and work on it, enabling fast changeover."
"We did consider a servo press," Childers admits, "but the price was a concern. And, the inclined-press design was a need based on our history here with straightsides. The incline makes the press more user-friendly in terms of getting the parts out without ricocheting and potentially damaging the tooling."
Speedy and Flexible
How much faster can the firm run legacy tools on the new press? "It maxes out at 200 strokes/min.," Wyan says, "when we use the shortest stroke. Even on a one-out tool at 200 strokes/min., we can produce more than a two-out die running on a conventional press at 70 strokes/min."
Stroke, set manually by the press operator following job-router instructions, ranges from 12 to 110 mm.
"We try to run a family of similarly sized parts back-to-back to minimize die-insert changeovers," Wyan explains. "We have parts that run at 12 mm, but not at the high end; 90 mm is about as much as we need right now, but we see an opportunity to bring in larger parts. We wanted to outfit the press for future work, eying new business opportunities where we might need more stroke length than we need currently."
"We also worked with Sangiacomo to discuss what part-size ranges we were seeing with our quotes, which also dictated the specs of the feed line," adds Childers. "We were quoting a little thicker material than Sangiacomo was used to feeding, because we sometimes need to stamp short, thick washers, and other times large thin washers—quite a variety—and we try to accommodate that whole mix. That's what led to the decision to use a Universal Feed coil line."
A Perfect Complement to a Lean Strategy
Wyan and Childers have found the press to fit perfectly into the facility's drive to become lean, as it's been busy conducting lean training for its associates, including instruction on quick die change. Along with staging dies and material for subsequent jobs in the queue and equipping die carts with all of the tools needed for changeovers, the firm has prepared work instructions for changeovers. Changing out the 200-lb. die that runs on the Sangiacomo, "we can place the die in the press, set it up and have it running in 20 min.," Wyan says.
"It's a fun press to run," he adds, "and we even can adjust the speed of the press while it runs, which proves helpful when we're trialing new dies. We can start at 80 strokes/min., for example, then bump it up to 85 or 90 and watch how it runs, then ramp it up to 120 or 140 strokes/min., then adjust it back down if we need to, should part-quality issues arise. However, oftentimes the faster we run the cleaner the cut when we're blanking. We're within 0.001-in. repeatability with this press; the precision is there." MF
Industry-Related Terms:
Blank
,
Blanking
,
Carbon Steel
,
Center
,
Coining
,
Concentricity
,
Die
,
Form
,
Model
,
Run
,
Slug
,
Stroke
View Glossary of Metalforming Terms
See also: Sangiacomo Presses Americas, LLC
Technologies: Stamping Presses, Tooling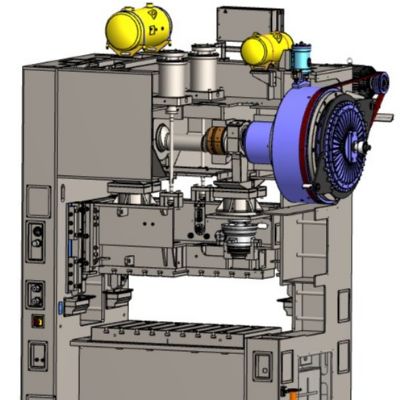 Stamping Presses
High-Speed Mechanical Presses
Tuesday, October 31, 2023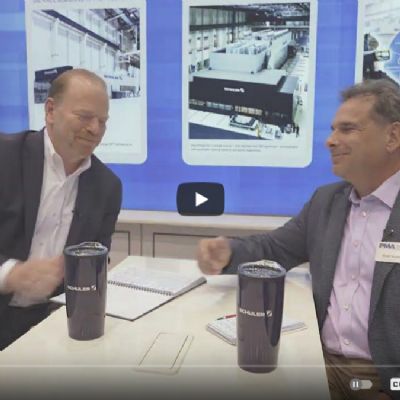 Stamping Presses
During FABTECH 2023, MetalForming Magazine Catches ...
Monday, October 23, 2023

Video

Stamping Presses
Tour the BMW Oxford Plant—the Firm's "Laboratory of the Futu...
Monday, September 18, 2023

Video