"We took delivery of the cutting machine early in 2019, and it has served as a great entry into laser cutting for us," Charon shares. "It fits us like a glove. Much of the work we cut is very thin-walled, typically ¼ in. and thinner. We get great cut quality as well as throughput from the machine, whether cutting with air assist or, in some cases, oxygen for cutting tube thicker than 0.065 in."
Navigating the Learning Curve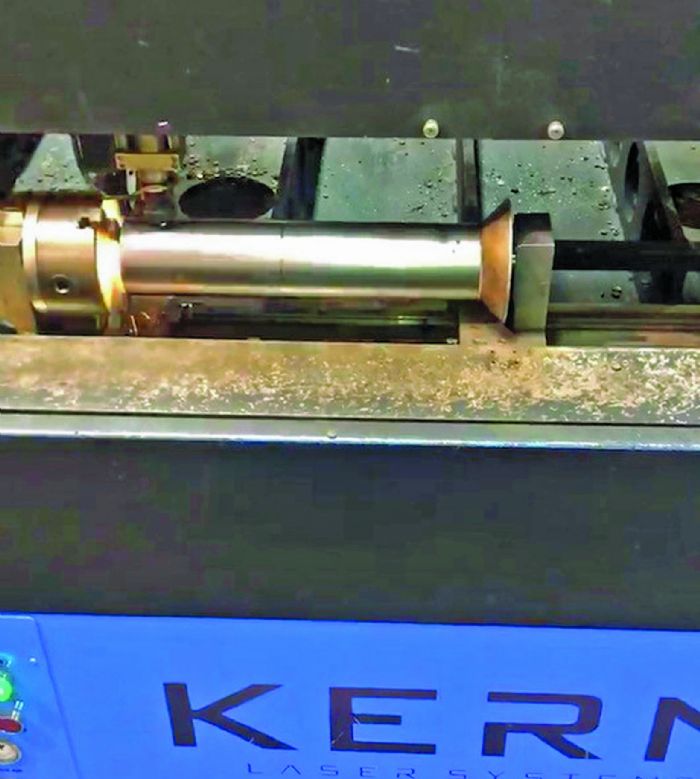 Noting that at the time the goal was to move into laser cutting without making a huge investment, "we did look at plasma cutting as well," Charon says. "However, we felt that the added cut quality, and the opportunity to compete for precision laser cutting work in this area, would quickly allow us to cost-justify the investment. Once we navigated the learning curve and got up to speed on the equipment—with help from Kern—we brought that office-furniture job inhouse and then started fielding quotes from several other customers. Now, we're running the machine 12 hr./day, and honestly could run it even more if we could keep it staffed with an operator."
Navigating the learning curve, Charon points to learning to use the Kern programming software, understanding how to vary laser power as needed, and when to use oxygen or shop as the assist gas—and how much gas—as key knowledge bites. "And, many of the process parameters change whether you're cutting square or round tube sections," he explains, "partly due to the tube geometry. Square tubes have variable wall thickness since material gathers in the corner radii, so we must adjust cutting-process parameters accordingly. We also experience variable cut quality depending on the tube supplier, its recipe for creating a particular alloy, and its production process. To adjust at the laser cutting machine, therefore, we've developed numerous recipes for piercing and cutting based on the specific workpiece at hand. We probably have some 200 recipes stored in the machine control, and we're setting up and programming at least one new job/week.
"To learn the machine and become trained, we didn't hire a laser expert," Charon continues. "We trained ourselves, along with the support of Kern's technician who spent a week here helping us get set up, including developing the set of fixtures we needed. And, long after he left, we continued to receive help from Kern as needed. We now have three employees trained on the machine, including me."
Moving Beyond Prototyping and Short Run
We spoke to Charon during the height of VanRon's prototyping season—year-end, when many of its customers ramp up new-product development. "While prototyping comprises some 20 percent of our annual volume, during Q3 and Q4 we see a lot of this work, along with low-volume production jobs of 100 to 1000 parts," Charon says.
Now that Charon and his team have their arms wrapped around low-wattage laser tube cutting for prototyping and lower volume work, what's next?
"As we move into 2022, we'll likely invest in a bigger tube laser-cutting machine—higher power and equipped with automation—so that we can continue to grow into higher-volume work," Charon says. "We hear that in this area, lead times for tube laser cutting can be 10 to 12 weeks or more, so we think there's an opportunity for us to graduate beyond prototype and short-run production." MF
Industry-Related Terms:
Center
,
CNC
,
Core
,
Corner
,
Forming
,
Grinding
,
LASER
,
Model
,
Piercing
,
Prototype
,
Run
,
Thickness
View Glossary of Metalforming Terms
See also: Kern Laser Systems
Technologies: Cutting