Multi-Sensor CMMs Provide High-Capacity Inspection for Auto Supplier
April 29, 2020
To upgrade the inspection capabilities of its measurement laboratory, the quality department at the Chassis & Safety division of automotive equipment manufacturer Continental, in Veszpren, Hungary, invested in two LK Metrology Altera multi-sensor coordinate measuring machines (CMMs).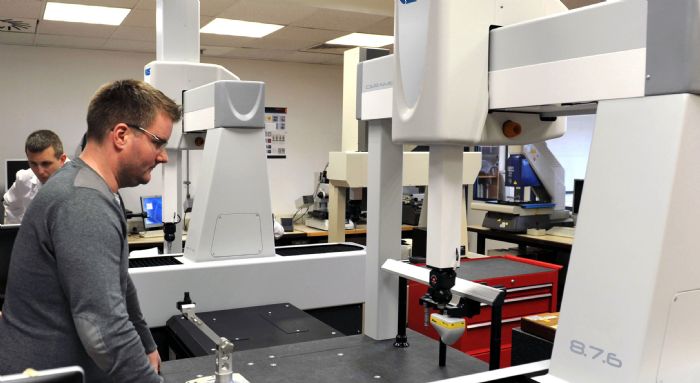 Continental needed a high-capacity system capable of rapid inspection cycles, combined with fast surface scanning and accurate feature measurements, in order to gain more comprehensive insight into the company's products. Its product range includes electronic and hydraulic brake and chassis control systems, wheel and engine speed sensors, airbag electronics, and electronic air suspension systems.
Day-to-day tasks in the quality department's measurement laboratory include feature and surface inspection, linear dimension measurements, and geometric dimensioning and tolerancing (GD&T) analysis to monitor production quality from the shop floor and assist in new-product development. The department processes approximately 1600 inspection reports per year, each consisting of roughly 20 measured parts, but it needed quicker, more comprehensive insight, and to obtain more information per report.
In Continental's measurement lab, a single CMM with touch probes handled most inspection duties. The main limitation of the pre-existing CMM was its slowness and, hence, low capacity, according to measuring technician Peter Somogyi. And, software was not up to company standards regarding automated inspection and GD&T, reports quality engineer Tamas Brunner. The CMM couldn't keep up with throughput using touch-probe inspection, let alone provide the level of insight necessary, with Brunner noting that inspection cycle times needed to be halved.
Desiring multi-sensor technology, the decision team decided on two Altera 8.7.6 CMMs from LK Metrology, each providing multi-sensor capability complemented by LK Camio software.
In addition to a Nikon LC15Dx digital laser scanner, the new CMMs include a Renishaw TP200 tactile measuring probe. An ACR3 change rack ensures smooth, automated exchange between tactile and noncontact probes, controlled by the Camio acquisition and processing software.
As all measurement data are stored and available for reprocessing or further analysis, the new inspection system serves as an important tool in handling potential customer claims. And, quality of the new inspection process has introduced increased insight into critical dimensions, cavities and functional features of parts, enabling faster corrective action.